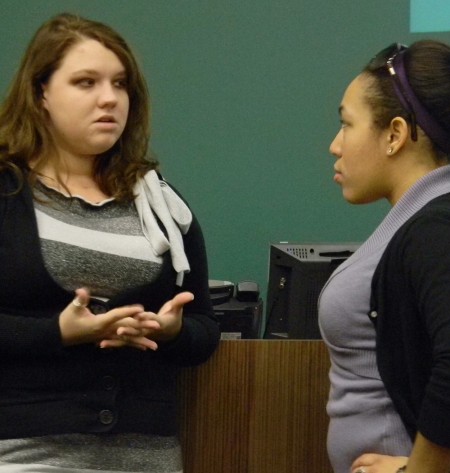 Students voiced their opinions on controversial topics Nov. 3 at "Free Speech, When It Goes Too Far."
The event was an open, candid discussion in IRC 120 about derogatory statements, offensive imagery, bullying and social networking.
"I think it's important to realize that students do have a voice, and they can share their opinions," said Ashley Davis, a junior in secondary education history.
President of Student Government Morgan Toms moderated the event, accompanied by a PowerPoint presentation outlining the topics.
Davis said she thought the event was helpful because the students are from a different generation than the faculty, and it allowed them to voice their opinions about what can be changed at the university.
Davis was one of approximately 50 students attending the event. Also attending the event was Casi Jackson, a junior in biology.
According to Jackson, the discussion of the Confederate flag impacted her the most. Jackson feels it represents slavery and is offensive to her as an African American.
Davis agrees with Jackson's views on the offensiveness of the Confederate flag.
"Even if it wasn't the intentions of whoever made the flag, the feelings that come from it are sad and bring back those memories," said Davis.
Other topics discussed included the recent FSU T-shirts, cyber-bullying, and defining freedom of speech and its limitations. There were opinions from both sides throughout most of the discussion.
President of the Ferris Economics Club Andrew Finnerty said he was most concerned with issues raised about the Constitution.
"The Founders knew freedom of speech was an institution outside their control," said Finnerty. "It's not a right granted to us by a piece of paper, but because man owns his own body."
Assistant Director of Multicultural Student Services Michael Wade said he and the other sponsors plan on having similar open discussions at least two times a semester.
The From Words to Actions Planning Committee, OMSS, Bulldogs Unmuzzled and the Diversity Committee of Student Government were sponsors for the discussion.
"OMSS should keep doing controversial issues," said Finnerty. "I think it was a great event."
For information on future discussions, contact Michael Wade at ext. 2617. n