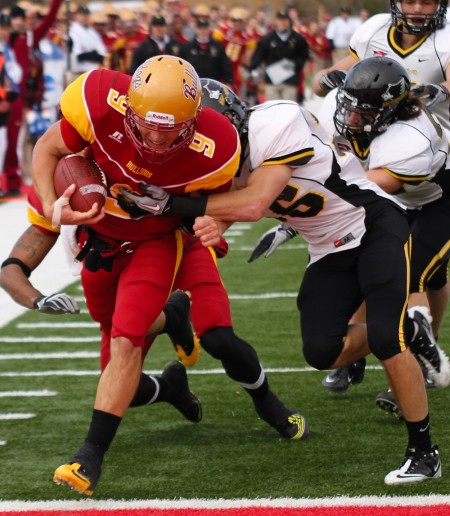 The Bulldogs couldn't shake their recent slide as they dropped their fourth-straight game with a 28-16 loss to Michigan Tech in the home finale for Ferris.
On Senior Day for the Bulldogs, the seniors didn't have much to celebrate as the Huskies came out victorious over Ferris for the eighth-straight time, with the last Bulldog victory coming in 2002.
The Huskies held a 21-9 lead at the half, but the Bulldogs scored on their first possession of the third quarter with a one yard touchdown run by junior quarterback Tom Schneider to close the gap to 21-16. But two missed field goals in the contest and a missed opportunity in the redzone for the Bulldogs before the half ultimately cost the team at the end.
"We had a legitimate shot at winning this football game and had a lot of opportunities that we didn't capitalize on," said Ferris head coach Jeff Pierce. "The breaks obviously didn't go in our favor, but you have to overcome those kinds of things."
Michigan Tech, which upset the then top-ranked Grand Valley State Lakers 20-17 in the previous week, piled up 392 total yards of offense. 301 of those yards came from the running game, which helped give the Huskies a 34:46-to-25:14 advantage over Ferris in time of possession.
Ferris tallied 318 yards of offense on the day, as Schneider completed 17-of-29 passes for 203 yards on top of two rushing touchdowns. Junior receiver Mike Ryan nabbed a game-high eight catches for 97 yards while sophomore running back Dwayne Williams was the leading rusher with 37 yards on six carries. The Bulldogs gained 115 yards on the ground.
On defense, senior linebacker Matt Ryan once again led the Bulldogs as he tallied a game-high 15 tackles. Junior defensive tackle Muneer Bawayeh registered nine tackles while junior defensive back William Miles had an interception. The pick was Miles' fourth interception in two games, as he had three interceptions the previous week against Indianpolis. Despite leading the GLIAC in sacks, Ferris registered only one sack in the game, as the Huskies have allowed the fewest sacks in the nation at the Division II level.
With the loss, the Bulldogs now stand at 5-5 on the year and 5-4 in GLIAC play. Michigan Tech remains in second place in the GLIAC at 7-2 in overall and GLIAC play. The Huskies remain in contention for a playoff spot with the win. The Bulldogs will head to Northwood University to try and end the 2010 season with a winning record in the final game of the season on Nov. 13.
"These guys are going to go to battle against Northwood," said Pierce. "The guys all know what we have and how close we are to taking the next step. But we're on our way and we can't take a step back." n