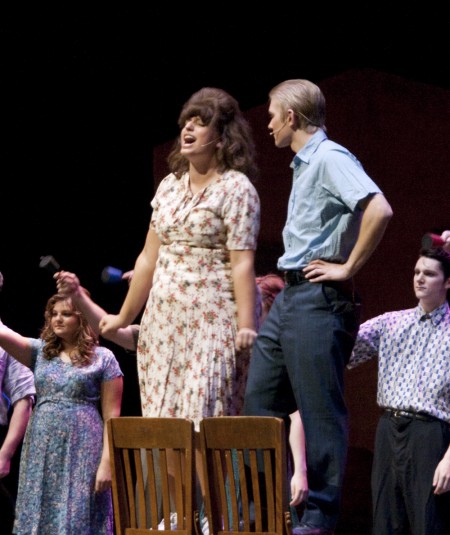 The production of Hairspray showed off the talents of dozens of Ferris students from different academic programs.
The high-energy musical began with Tracy Turnblad, played by Andie Ancevski, taking demand of the stage by singing "Good Morning Baltimore."
"Playing Tracy was a lot of fun. It took quite a while for me to get the lines down and I'm really grateful for all of my friends who helped me figure it out," said Ancevski, sophomore in pre-pharmacy. "Preparing the songs was more fun than work because singing has always been a passion of mine, so getting the songs down was relatively easy."
Though Ancevski scored the lead part, she is relatively new to the world of acting.
"Last year was my first ever time in anything theater related," said Ancevski. "I was in the musical 'Personals.' It was kind of a shock to get such a major role this year, when comparing to last year, where I was in a trio for one song, and had minor lines in another scene."
Much work was put in by the cast members to help them create the mood of the '60s and also learn the dance styles.
"I watched the movie a lot just so I could get the feel of my character and the different attitudes and dance styles of the 60's," said Tyree Reed, a freshman at Ferris who played one of the Motor Boys. "We [the cast] also made fun of each other in joking ways to help relieve pressure."
Through hours of practice and rehearsals, the cast of Hairspray became a tight-knit family whose charisma and charm radiated onstage.
"The cast was phenomenal to work with and I enjoyed every moment I got to spend with them," said Reed. "We were a very diverse group of people and we helped to make the show what it was. We fed off of each other; I would work with them [the cast] again in a heartbeat."
Jessica Femminineo, sophomore in hotel and restaurant management, loved her experiences in working with the cast and playing the part of Prudy Pingleton.
"Being in a musical is such a bonding experience and being in Hairspray was no different," said Femminineo. "I absolutely love my Hairspray cast family and they have always supported me."
"The cast was wonderful," said Tia Singleton, a junior in the English program who played Motormouth Maybelle. "The more experienced actors were extremely helpful as this was my first show."
The cast hopes the play made a strong impact on audience members on the importance of being open-minded, nondiscriminatory, and optimistic.
"It doesn't matter what the color of your skin is or what your personal features look like, as long as you dream big and go for the gold, you can do it," said Reed. "You may face adversity along the way, but that is part of life and you have to keep persevering to achieve your dreams. In the end, we all come together to show that we are one. It does not matter if we're black or white, thin or fat; we all are equal."
"Bad things happen in this world, but if you can see past that, to the good that is still out there, then you can be truly happy," said Ancevski.
The cast of Hairspray was pleasantly surprised by the enthusiasm and receptiveness of the audience.
"The audience enjoyed the show," said Macy Al-Shatel, who played Tammy, a member of the Councilettes. "There was a ton of laughter throughout the performance, and after the show everyone had smiles on their faces and was congratulating everyone."
"I couldn't contain my joy to see a crowd of more than 600 people on their feet giving the cast a standing ovation," said Ancevski. "It's simply mind blowing. I wouldn't trade the experience for anything."
"Ferris has put on wonderful productions in the past, but I think this was the best by far," said Singleton. n