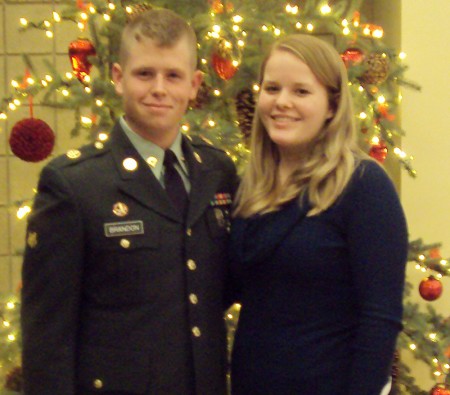 Chelsea Brandon, biotechnology major at Ferris State, knows what it is like to miss loved ones serving overseas in the military.
Her husband, currently serving in the army, is deployed in Afghanistan. Married in the summer, the two have known each other since high school and have been dating for three years, the length of which he has served in the army.
According to Chelsea, her husband, Specialist Wayne Brandon, comes home for a two-week mid-deployment, leaving before Brandon's Thanksgiving break. After which, she will not see him for another six months.
Chelsea said she talks with her husband every three days on the phone and video chats with him every week. She said it is often far more difficult for soldiers to keep in touch with their loved ones.
"If they're in a really strict combat zone, they might get to use the phone once a week," Chelsea said.
Chelsea said while deployed in South Korea, the two could only communicate through e-mails and letters. She said getting to see her husband during Skype calls allows her to cope with their physical distance.
For these reasons, Chelsea and her friends formed the Ferris State Military Support Group. Meeting in FLITE 214, members give updates on friends and family currently serving in the military. There are approximately 25 members involved in the Military Support Group.
According to Chelsea, advice is given to new members who may be getting used to having their loved ones serving in another country.
"It gives us a place to share about our friends and family who are in the military," said Military Support Group Vice President Linzy Flier-Zylstra.
Some of the group's projects include taking donations at various places to put together care packages for soldiers and sending thank-you letters from elementary school students.
The group will also be taking donations at the West Central Concert Band Veterans Day Concert taking place Nov. 14 at 4 p.m. in Williams
Auditorium. n