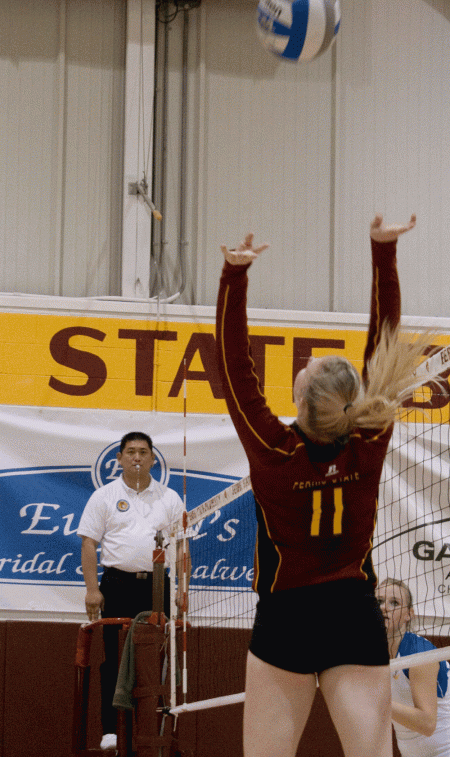 After a late season push into the post-season tournament, the Bulldogs run for a title ended abruptly against nationally No. 9-ranked Hillsdale.
Ferris State polished off Wayne State University 3-1 in the quarterfinals of the GLIAC tournament. The win against Wayne State was the Bulldogs' seventh consecutive win. Wayne State hosted the No. 5-seeded Bulldogs Nov. 11 in Detroit as the No. 4 seed. Though the Bulldogs won 3-1, the scores of three sets were within three points and the matchup included 15 ties and seven lead changes in total.
"Our team played very well in the quarterfinals at Wayne State," said Ferris coach Tia Brandel-Wilhelm. "Playing on the road can be tough, but our players handled the obstacles with grace and determination."
With the victory, Ferris State went on to face top-seeded Hillsdale in the semifinals of the tournament and were looking for the team's eighth consecutive win. Ferris could not continue rolling past its opponents, however. Hillsdale hosted the semifinal and championship matches of the GLIAC tournament and earned that right by posting the league's best season record of 19-0. Hillsdale also made history this year by tying Northern Michigan's 1998 record of 19-0 for the best single season conference record in GLIAC history.
"We played well on defense and the effort was outstanding," said Brandel-Wilhelm. "Losing in the semifinals was tough for the team."
Hillsdale went on to win the GLIAC title for the second season in a row. The Chargers defeated No. 2-seeded Grand Valley State 3-2 in the championship match. Hillsdale increased its overall record to 28-1. The Chargers earned an automatic bid into the NCAA Division II tournament by winning the tournament title. The team has also been selected as the No. 1 seed in Division II Midwest Region play and will host the tournament.
Though a GLIAC title was the Bulldogs' desired outcome, there is still plenty to be proud of for the season's performance.
Ferris had not previously made the semifinals of the GLIAC tournament since 2006. The Bulldogs' appearance in the tournament marked Ferris' 13th consecutive GLIAC tournament appearance. Ferris State finished the season 18-10, marking their 13th consecutive winning season.
The Bulldogs will not be making their 16th all-time appearance in NCAA Division II tournament play this season. Teams competing in the tournament were selected Nov. 14. by the NCAA. n