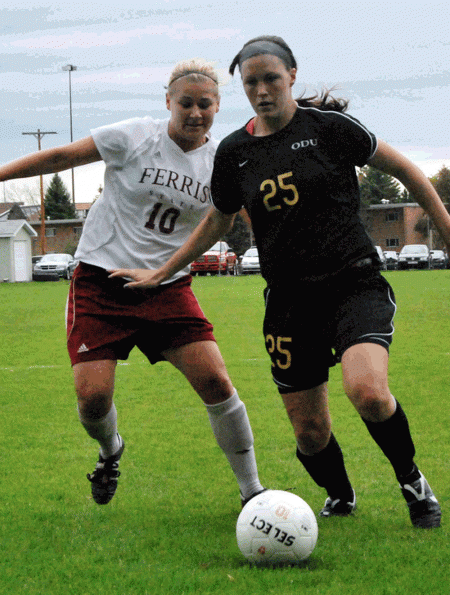 No one puts up as many points for the Bulldogs as junior forward Bri Borgman.
Borgman, a Holland native and elementary education major, is climbing the statistical ladders in Ferris records with her total goals and game-winning goals.
"She'll start being the leader of our offense and how we attack," said Ferris head coach Matt Kellogg. "I think she's definitely capable of doing that."
Borgman originally attended the University of Wisconsin-Milwaukee where she was a redshirt freshman. Later she transferred to Ferris State and has since taken the offensive haul on her shoulders.
"As a player and a teammate, her best quality is her consistent work ethic," said Ferris coach Matt Kellogg. "She gets better with every session."
This season, Borgman led the Bulldogs in scoring with 23 points. She scored a team-high 10 goals and registered three assists in 19 matches. Borgman also tallied three game-winning goals to place her tied for second in Bulldog history with eight game-winning goals in her Bulldog career.
Borgman moved into fifth place in Bulldog history for goals scored at 25 and for points per game at 1.00. She is ranked seventh all- time in points tallied with 56. The only category Borgman is not near the top in is assists. Borgman has tallied six during her career at Ferris, but considering she takes the majority of the Bulldogs' shots, assists are not a priority.
"Her challenge is to help improve her teammates," said Kellogg. "She needs to communicate with her teammates because she reads the game very well."
The College Sports Information Directors of America acknowledged Borgman for her efforts on the field this year. She was named to the 2010 CoSIDA All-District IV College Division Third Team. Borgman was among 16 student-athletes to receive third-team district IV recognition within the college division.
The division is comprised of schools in NCAA Division II and III schools along with programs in the National Association of Intercollegiate Athletics and National Junior College Athletic Association. n