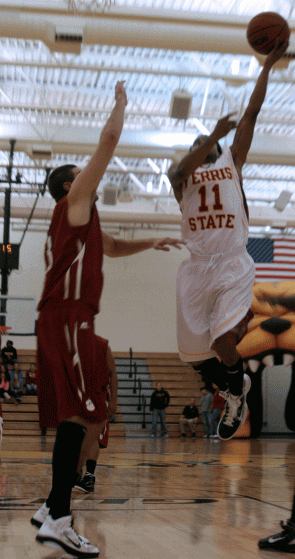 With high expectations and accolades during the preseason, the Bulldogs got down to backing up the expectations with two home victories to open the season.
As The Sporting News picked Ferris as one of its possible breakthrough teams in Division II, the Bulldogs got off to a good start by picking up victories over Calvin and St. Joseph's (Ind.) at Wink Arena.
"We're a veteran team and we're pretty good on the offensive end, but we need to keep working on defense and rebounding and just being smart," said senior guard Darien Gay.
On Monday, the Bulldogs showcased the emphasis on defense and rebounding, as they outrebounded St. Joseph's 42-30 and held the Pumas to shooting 29 percent from the field on their way to a 66-55 victory.
"I think we knew that we had to stop the transition and our defensive position was great tonight," said Ferris head coach Bill Sall. "We really had some textbook defense tonight."
Preseason Division II Player of the Year Justin Keenan led the Bulldogs with 25 points and 13 rebounds. Gay tallied 12 points along with five assists and sophomore guard Kenny Brown put up nine points off the bench.
Though the Bulldogs had a strong showing on defense on Monday, they relied on the play of the bench in the season opener against Calvin on Saturday.
Ferris held a slim 47-42 lead after the first half, but a 44-27 scoring advantage in the second half propelled the Bulldogs to a 91-69 win. The Bulldog bench outscored the Calvin bench 46-17 in the contest while also leading 25-7 in fast break points.
Gay set the pace for Ferris with 19 points along with five steals and four assists. Keenan chipped in 18 points with nine boards and senior Lou Williams registered 13 points and six rebounds off the bench.
"Our newcomers really are believing that rebounding and defense wins games and that's why we're improving and we just need to continue improving in those aspects and we'll be fine," said Keenan.
The Bulldogs will return to action with one more home contest against Lewis on Nov. 20 before heading off to Kentucky on Nov. 26-27 to take part in the Owensboro Classic. Ferris will face Drury (Mo.) and Kentucky Wesleyan at the Owensboro Classic. n