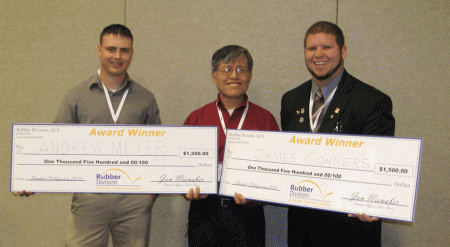 Andrew Meyer and Jim Connors recently received $1,500 scholarships for their presentations at the Rubber Expo's Student Colloquium in Milwaukee, Wis.
"I feel pretty good about this scholarship," said Meyer. "It's the first scholarship I've ever gotten, and it's one I'll never forget."
Meyer, an undergraduate in rubber engineering technology, received the award for "Best Technical Presentation" at the competition. His study was based on a rubber called hypalon.
"Recently the U.S. supplier, Dupont, shut down the process of making hypalon," said Meyer. "So my study was to compare other samples to the original."
Connors, an undergraduate minoring in polymer material technology, received the award for "Best Poster."
"My research was largely based off the chemistry involved in making rubber products, and that chemistry knowledge is a direct result of classes taken to complete my major," said Connors.
"We are showing the industry that we are capable of solving the problems regarding the urgent issues of cleaner and sustainable manufacturing," said Matthew Yang, associate professor of plastics and rubber engineering technology.
According to Yang, the Rubber Division of the American Chemical Society's Education Committee created the scholarship prizes for winners of the competition.
The competition was broken down into technical presentations and poster sessions for both undergraduate and graduate students.
"Most of the participants receive up to $500 for their travel needs, and all have the opportunity to compete for four $1,500 scholarships," said Yang.
Yang said the rewards are not only monetary.
"This is an opportunity to present students' best work to industry professionals worldwide and network with them during special events," said Yang. "In fact, several of our participants have received job offers on site."
Meyer said he would not have received the scholarship without the rubber engineering technology program because it started his research. It also helped him fulfill a technical elective requirement for graduation.
"I chose the rubber program because of the small class sizes and the 100 percent job placement out of college," said Meyer. "It's hard to turn down a 100 percent job placement."
"My favorite thing about the polymer material technology program is that I can take my theoretical chemistry knowledge and lab techniques and apply them to a hands-on career path, such as rubber chemistry," said Connors.
Connors plans to put his scholarship toward part of this year's tuition expenses and a savings account.
Meyer said he plans to put his scholarship toward his last two semesters at Ferris. n