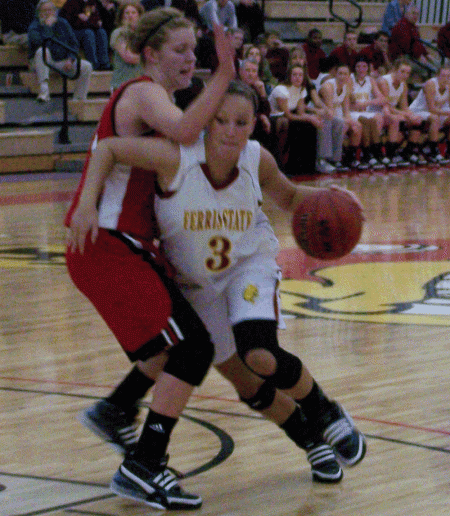 Women's basketball will be looking to get back to the GLIAC tournament, which they missed last year, for the first time since the 1998-99 season.
The team and head coach Tracey Dorow know that in order to accomplish their goal, the team is going to have to work hard each game.
"We expect to compete hard every single night," said Dorow.
Unlike a year ago when the team did not have any returning starters from the previous season, this year's squad has no shortage of experience. The current roster sports three seniors and three juniors who will be able to provide valuable experience.
Senior guard Becci Houdek said she feels the team will be able to compete for a GLIAC title.
"We have basically everyone returning so we have some experience and our young kids are looking good," said Houdek.
Last year the team struggled on the road as the team went 1-14 outside of Big Rapids en route to an 8-19 overall record.
"We didn't know how to handle adversity and we didn't know what the GLIAC was all about," said Dorow.
Dorow believes those experiences have helped give the current squad a better mindset and they are going to work hard to make a big impact in the GLIAC.
Junior guard Lindsey Pettit said the team cannot let little mistakes get in the way of the team achieving its expectations.
"We have been working really hard on doing things right the first time," said Pettit.
The team will be opening their 26-game regular season at home on Nov. 20 as they host Edinboro University. It will be the first of many battles that the Lady Bulldogs hope to conquer as they try to get back to the GLIAC tournament and prove that last year was a fluke.
Coach Dorow knows she has a team of fighters this year and they are going to be a team that is fun to watch.
"Each day we are preparing for the battles we will face during each game and we have a team of fighters," said Pettit. n