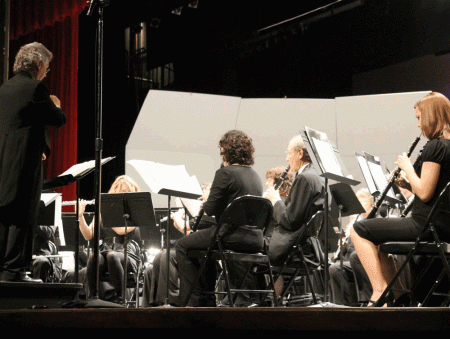 The FSU Symphony Band and the FSU West Central Chamber Orchestra will continue this month's musical montage with two more concerts.
The band is comprised of the largest number of Ferris students it's seen in many years. The orchestra is also reaching record breaking numbers this fall with the largest number of string players it has ever had and the largest number of participating Ferris students.
"We have a combination of many new and returning Ferris students, with two community members," said Dr. Richard Scott Cohen, director of the WCCO and Symphony Band.
The Symphony Band will be performing its first concert of the season on Nov. 17 at 8 p.m. in Williams Auditorium. The Symphony Band is Ferris' newest ensemble and was created four years ago.
"The music is a very enjoyable mix of old and new, marches and rock n' roll, folk songs and swing music," said Cohen. "Several students have solos throughout the concert and we're playing a really cool 'alternative' piece called 'Dissonants,' which will be conducted by Pep Band Faculty Director Dale Skornia."
There will be a total of seven pieces played at the concert, including a selection from the musical "Grease."
The WCCO concert this year will combine wind and percussion instruments to create a symphony orchestra effect.
The orchestra concert also has meaning beyond musical pleasure for some. The concert will be dedicated to the memory of Jean Rarig. Rarig worked hard throughout the years to help develop the orchestra and played with them for 42 straight seasons.
"David Baker, the eldest of her [Rarig's] two sons, will perform music from Bach's famous cello suites as a tribute to her musical legacy," said Cohen in a press release.
The concert also has significance for other students in the orchestra.
"Senior DeAnna Wolgast is in her fifth year in the orchestra and will be graduating in December, so this is her last semester," said Cohen. "We are playing 'Shenandoah' at her request and in her honor."
Wolgast said she will miss the orchestra program dearly and playing with the orchestra is her favorite thing to do.
"Ferris can train me to do my major during the day, then at night I can play my stress away. It's a wonderful thing," said Wolgast.
Wolgast commented that over the past four years she has seen the orchestra improve in strength, numbers, and work ethic.
"I can't wait to see what this concert sounds like and future concerts to come," said Wolgast. "I'm so proud to be a member of this program."
The orchestra concert will take place on Nov. 21 at 4 p.m. in Williams Auditorium. The ensemble will play eight selections.
For more information on upcoming concerts and FSU ensembles, contact Dr. Cohen at rscohen@nullferris.edu. n