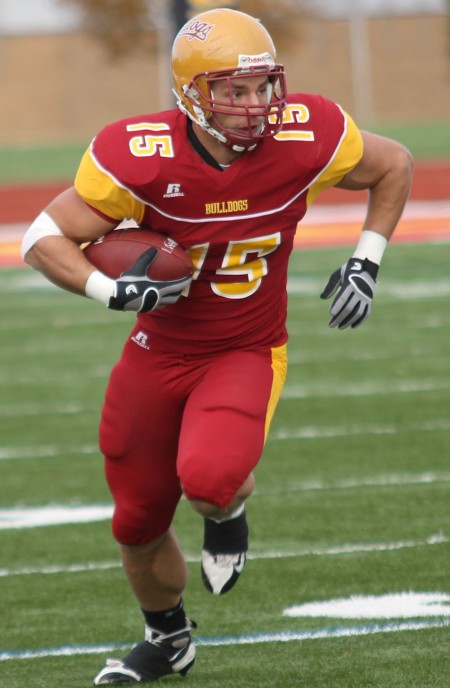 The Bulldogs ended the 2010 campaign with a thud as they lost to Northwood 41-35, ending the season on a five-game losing streak after putting together a five-game winning streak during the middle of the season.
With a chance to have their first winning season since a 6-5 season in 2008, the Bulldogs squandered a 28-14 halftime advantage to end the year with five-straight conference losses. Before the losing streak, Ferris was 5-0 in GLIAC conference matchups and in second place behind Grand Valley State in the conference.
"They got back in the ballgame on us and it came down to the shootout at the end and the sad thing about it is the last few plays could have been a different story," said Ferris head coach Jeff Pierce. "But it didn't happen that way and it's disappointing, but I'll tell you that I enjoyed working with these guys because every day they come out and lay it on the line."
After building a 14-point lead at the half, the Bulldogs were outscored 27-7 in the second half as the Timberwolves rallied behind sophomore quarterback Aaron Shavers. Shavers did most of his damage on the ground as he racked up 137 yards on 16 attempts with two touchdowns. The Timberwolves had 459 yards of total offense.
The Bulldog offense kept pace through the game, as the team tallied 431 yards of total offense. But an injury to Schneider in the second quarter forced Ferris to turn to redshirt freshman quarterback Michael Buday in the second half. Buday finished the game with 197 yards passing with a touchdown and an interception. Pierce said he thought Buday did a good job despite being thrust into the competitive game.
Senior Chris Wilson led the receivers in his final game as a Bulldog, as he notched seven catches for 123 yards and a touchdown. Sophomore running back Skyler Stoker paced the Bulldog ground game with 49 yards and a touchdown. The Bulldogs rushed for 179 yards on the day.
In his final game as a Bulldog, senior linebacker Matt Ryan once again led the Ferris defense with 12 tackles on the night. Ryan ended the season with a team-high 128 tackles.
Although the loss capped off a dismal end to the season, the Bulldogs know the signs of improvement are there after last season's horrendous 1-10 record.
"We took a good step this year, but it sure would have been nice to get a couple of these last ones here," said Pierce. "The journey back to the top is not an easy one, but if we continue to build off the progress that we've made…these guys are going to win a lot of football games for us in the future." n