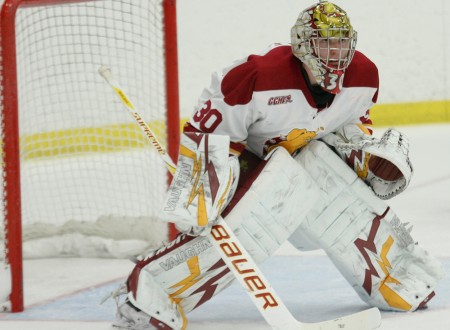 Senior goaltender Pat Nagle is doing something no Ferris netminder has done in more than 15 years.
Nagle, a 22-year-old marketing major from Bloomfield, leads the Central Collegiate Hockey Association in GAA and save percentage and is in the top eight in the nation in both categories.
Ferris State head coach Bob Daniels said Nagle has been instrumental in the Bulldogs' success so far this season.
"There's never been a better stretch of goaltending in the history of the program," said Daniels. "Pat is arguably the hottest goaltender in the league and certainly one of the top five goalies in the country."
Nagle got his start on the ice at an early age. He said he began skating on a lake near his house when he was four-years-old. By the age of six, Nagle was playing in organized leagues, but not as a goalie.
He said he waspretty young when he tried out playing goalie one day in a practice and really enjoyed it.
"Probably by the time I was like 10-years-old I got into it pretty seriously and decided it was something I wanted to do," said Nagle.
His passion for hockey was sparked at a young age from his dad and a neighbor, who happened to play for the Detroit Red Wings for eight seasons from 1977-1984. Paul Woods, who calls games for a Detroit radio station as a color commentator for the Detroit Red Wings, has lived next door to Nagle since he was born.
Unlike many hockey players, Nagle did not have to change high schools to play travel or junior hockey. He graduated from Lahser high school in 2006 and played for one season with the St. Louis Bandits of the North American Hockey League.
Nagle began his career at Ferris in 2007 where he saw limited action as the backup to then senior goaltender Mitch O'Keefe. Though the two were on the team together for just one season, Nagle said O'Keefe helped him with both the physical and mental parts of the game.
"He definitely helped me battle with the day in and day out work and the pressures of it," said Nagle. "Obviously he did well that year so it was good and it kind of helped me do well."
Nagle set the Ferris hockey single-season record with a 2.13 GAA in 26 games last year. During the offseason, he participated in the Dallas Stars' 2010 Prospect Camp.
Following his record-breaking season, Nagle has held opponents to 1.73 goals per game and has saved over 93 percent of the shots he has faced in 14 appearances this season. He has a 7-4-3 overall record including two shutouts.
In four games against the first and third best offenses in the CCHA, Miami and Michigan, Nagle allowed an average of two goals per game in those contests, leading Ferris to one regulation victory and two shootout victories.
Daniels said Nagle is very even keeled and doesn't get flustered or show his emotions.
"His calmness and his evenness make him a great leader," said Daniels. "He's a man of few words in the locker room, but when he says things the guys listen."
On game days, Nagle says he warms up with the same drills and stretches and even eats the same meal. He eats chicken parmesan, pasta, and Caesar salad as his pre-game meal before every home game.
Nagle hopes to continue his hockey career after he graduates and said he will have to weigh his options. Daniels said Nagle has a very good chance to be a goalie at the next level.
"At this moment, he could be in the American Hockey League and could be starting games," said Daniels. "I think with some seasoning, he's got the ability to play in the National Hockey League one day." n