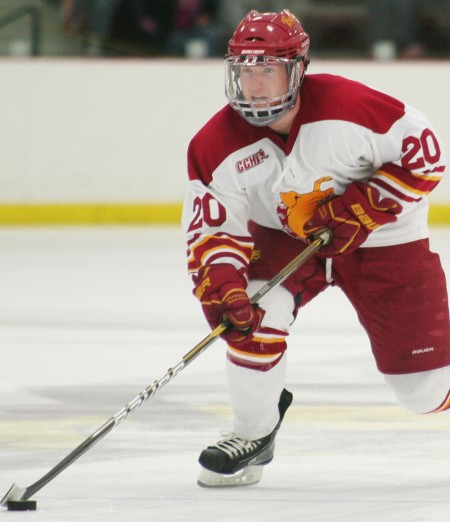 The nationally No. 20-ranked Bulldogs managed to withstand the Michigan State University Spartans on their home ice to make history.
Ferris State defeated Michigan State 3-0 on Nov. 23, improving their record to 7-5-3 overall and 4-4-3-2 in Central Collegiate Hockey Association conference play.
In all 107 games these two teams had competed in against each other, Ferris State had never registered a shutout on the road. For the first time in the two teams' history, the Bulldogs denied every MSU opportunity and defeated the Spartans without allowing a goal in the 108th matchup. The Bulldogs have not won on Michigan State's home ice since 2006 during a 2-1 triumph.
"I thought the team played very well that night," said sophomore right wing Eric Alexander. "We've been straying away from playing physical lately and the past couple of games we've been getting back on track with that and it's helping us a lot."
Senior goaltender Pat Nagle stopped all 27 of MSU's shots on goal in his second shutout of the season. Nagle turned away 13 shots in the third period alone to help preserve the shutout win. Junior defenseman Chad Billins started the offense for the Bulldogs, scoring with less than five minutes left in the first period. Alexander scored two goals late in the third period.
The goals marked his second and third goals of the year and led to his first multi-goal game of his collegiate career with the Bulldogs. Alexander said he will be more of an offensive threat this season as he and his line get better.
"I'm playing more of how I know I can, and I'm getting plenty of opportunities," said Alexander.
Michigan State is now on a three-game losing streak as the Spartans drop to 4-6-3 overall and 2-6-1-0 in the CCHA. This is the longest losing streak Michigan State has had since losing to Notre Dame, Wisconsin, and Minnesota this same time last year. The Bulldogs will be looking to pressure the Spartans and hope to have them make the same mistakes they made on Nov. 22, said Alexander.
"To win against MSU again, we have to play the body and make their defense make quicker decisions," said Alexander. "We have great defense, and Pat's playing well, and as long as they stay strong both games this weekend, I definitely think we can come out with a sweep."
Captain Zach Redmond has not played in the past few weeks, including the game against Michigan State due to a broken foot from the Miami University (Ohio) series three weeks ago. Redmond will be cleared to return for the home and home series against Michigan State scheduled for Dec. 3 and 4.
The puck will drop at 7 p.m. for both games. On Dec. 3 the Bulldogs will host the Spartans at the Ewigleben Ice Arena in Big Rapids. Then on Dec. 4 the Bulldogs will head back to East Lansing to be televised on Fox Sports Detroit as they face the Spartans. n