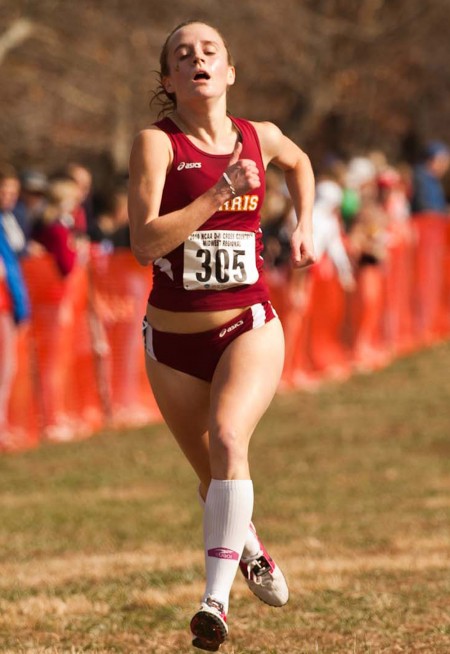 For the third consecutive year Ferris' women's cross country team will be heading to the NCAA Division II National Championships in Louisville on Dec. 4.
The Bulldogs took a second place finish in the Division II Midwest Regional meet held in Louisville on Nov. 20 that qualified them for nationals. Second place is now the highest the Bulldogs have ever placed during a regional meet. In the past two seasons, the Bulldogs have placed third in the regional race, but that record has been replaced. The Ferris ladies placed five women in the top 25 of the race.
Senior Tina Muir took the region's individual championship by crossing the finish line first at 21:05.96 for the Bulldogs. Muir also took first place last season in the Midwest Regional with a time of 21:34.
"Our team has worked so hard for this," said freshman Samantha Johnson. "We've put in all the mileage and workouts during this whole season, and we're all thrilled that we made it."
Muir took 12th place overall for the second straight year at the 2009 National Division II Championship meet last season. For her efforts, Muir earned All-American honors for the second consecutive year.
Ferris boasts a youthful group of runners this year. Four of the five runners for the Bulldogs to break the top 25 were lowerclassmen, which were made up of two sophomores and two freshmen. Johnson says it is pretty nerve racking going to nationals as a freshman but she is looking forward to the competition and the experience. There will be around 180 runners from the best Division II schools across the nation competing.
"Regionals this year was just one of those rare races where everyone ran really well and performed to their best," said Muir. "The team worked well together to spur one another on during the race."
Last season the Bulldogs claimed an 11th place finish in the national championship. The Bulldogs tied for the second highest finish in school history. This year marks only the fifth time the Bulldogs have qualified as a team to compete in the National Championship. Muir would like to break the top 10 of the upcoming national meet both individually and as a team.
"To get into the top 10 as a team, we just need to work together and remind ourselves that all the hard work is done; all we can do now is just go out there and cross that finish line knowing we have nothing left," said Muir. "If we know that we did our best, then we can't ask for any more."
The women's cross country team is ranked eighth in the United States Track and Field/Cross Country Coaches Association Division II National Rankings under third-year head coach Steve Picucci. During Picucci's first year with the Bulldogs, Ferris was not featured in the rankings. Ferris went on to reach the national meet and finish 17th during Picucci's interim coaching term. n