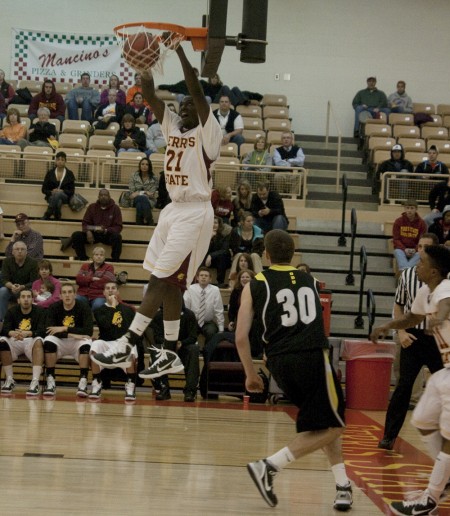 The Bulldog men's basketball team was in good spirits this weekend after defeating both Tiffin and Ohio Dominican to start the GLIAC schedule.
On Saturday, the Bulldogs hosted Ohio Dominican and kept a commanding lead through the game, as they managed to rack up a 50 percent field goal shooting percentage to Ohio's 32.3 percent in the first half, slightly decreasing that percentage in the second half but still dominating over Ohio. The Bulldogs ended the game on top winning, 86-60.
Thursday, the Bulldogs played in their first game of the GLIAC conference of the season against Tiffin. They got off to a strong seven-point lead, and went into half time leading by 15.
"At one point we got out to a 32-point lead," senior guard Matt DeHart said. "It showed how good of a team we can be and how far we have come."
The Bulldogs forced Tiffin to turnover the ball 18 times, including 13 steals throughout the game for the Bulldogs.
Senior forward/center Justin Keenan scored 24 points and pulled-down nine rebounds on route to being the leading scorer of the game. Senior guard Darien Gray had 18 points, including four three-pointers, and DeHart put forth eight points, nine rebounds, two assists, and two steals.
"It was a good win and a good first step forward," DeHart said. "Everyone played well. But in the second half we could have played harder with a little more intensity."
With the wins, the Bulldogs now stand at 5-2 overall, 2-0 in the conference, and a 5-0 standing at home.
"These conference wins help us stay undefeated in the GLIAC, and we look forward to keeping up the good work," sophomore guard/forward Kenny Brown said.
The Bulldogs will travel to Hillsdale next Tuesday and come back home to host Northwood on Saturday to continue GLIAC conference play. n