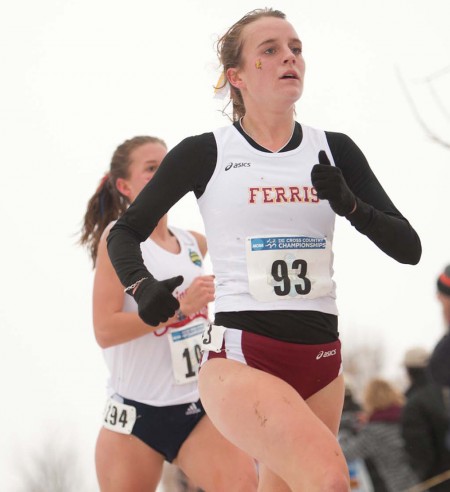 For three consecutive years, Tina Muir has been a name linked to top place finishes and consecutive All-American accolades and she continues to add to the list.
Muir, a senior at Ferris, has been recognized as the United States Track and Field/Cross Country Coaches Association(USTFCCCA) Division II Midwest Region Women's Athlete of the Year for the second consecutive season after her first place performance in the NCAA Division II Midwest Regional Championships held in Louisville on Dec 4.
"Running has taught me that nothing worth having comes easy," said Muir. "You really have to work hard and fight for the things you want most in life, but, when you do achieve them, it is the best feeling in the world."
Muir was first named to the USTFCCCA All-Region Team based on the final performances at the regional meet. She led the Bulldog ladies to their third straight NCAA Division II National Championship berth after the team finished in second place. Ferris placed among the top three in the region for the third consecutive season under third year coach Steve Piccuci.
"Many athletes dedicate their lives and spend countless hours preparing for their sports and so to achieve something like this really makes me appreciate how lucky I am to be recognized in this way," said Muir.
Muir finished first at the regional meet for the second straight season. After two years of consecutive 12th-place finishes in the national championship, Muir finished in 11th place this season earning All-American honors for the third season in a row.
"Earning All-American honors is something I am definitely proud of. It shows me that all my hard work, dedication and commitments paid off," said Muir.
Her focus will now be on track and field. Muir is looking forward to this track and field season because last year she was plagued by injuries that got in the way of her training. Last season she earned All-American honors while recovering from her injury. This season will begin Dec. 17 at Grand Valley in the GVSU Holiday Open. n