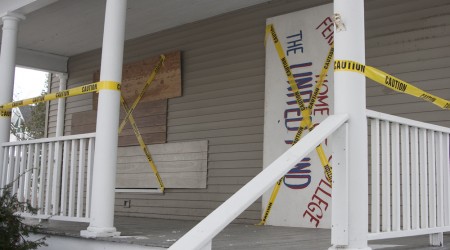 Months after the City Commission ordered a padlock on the property, a house in Big Rapids is scheduled to have its doors re-opened on Dec. 9.
Previously occupied by Ferris State Delta Chi members, the house located on 120 Locust St. was suggested to be padlocked by the Big Rapids Department of Public Safety after multiple nuisance party complaints in 2009.
The rental property belonged to Craig Chapman, owner of Chapman Housing. Chapman, along with Ferris student tenant Brandon Archambault, attended city commission meetings leading up to the decision to padlock the property.
Archambault, along with the other tenants, vacated the property by the end of the academic school year. The doors of the rental property were eventually padlocked in May.
In November, attorneys for Craig Chapman and the city of Big Rapids met in Mecosta County's 49th Circuit Court to discuss the City Commission's decision to padlock the property.
The city of Big Rapids provided statements from neighbors and police reports concerning nuisance party complaints and a disturbing the peace complaint at the rental home.
Recently appearing before Judge Scott Hill-Kennedy on Dec. 2, Chapman said he hopes to gain a better understanding of the city's decision.
"The ordinance was very big, so we are trying to get a better definition," said Chapman.
Big Rapids Chief Executive Administrative Officer Steve Sobers said he has been living in Big Rapids for seven years. Sobers said since moving to Big Rapids, there has been an increase of Ferris students living off campus.
"There has been a meteoric rise of students in the community," said Sobers.
Sobers said though a small percentage of residents may negatively affect the neighborhood, he encourages students to remain in the local community. He said he is pleased to see the changes student-living has made in Big Rapids.
"There is a marvelously positive change, and I'm extremely happy for it," said Sobers.
Big Rapids has a nuisance padlock ordinance allowing the City Commission to padlock property for up to one year if there are three or more nuisance complaints in nine months.
Prior to padlocking the house at 120 Locust St., the City Commission has only enforced the ordinance at one other location. n