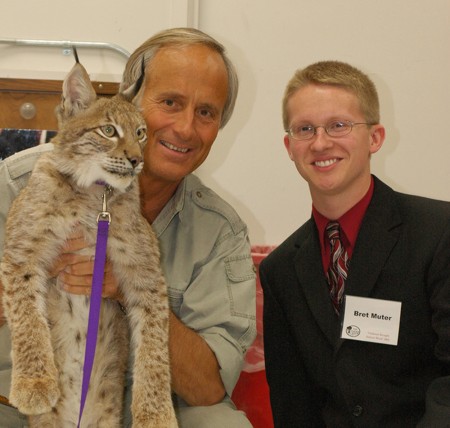 Like most college students, Bret Muter came to Ferris unsure of what he should major in.
Initially pursuing a degree in optometry, Muter eventually graduated with a degree in a uniquely different field.
The degree was a Bachelor of Science in environmental biology with a minor in technical writing. After graduating from Ferris in 2006, Muter attended Michigan State University for his Master's in fisheries and wildlife.
Muter said he has always had an interest in the outdoors, but was not sure what to make of it.
"When I came to Ferris, I wasn't sure what I was going to do or even if you could make a career out of it," said Muter.
He said volunteering at the Card Wildlife Center on campus greatly influenced his decision to change majors.
Recently, Muter has become one of five finalists for the "Wanna Be Like Jack Hanna" contest. The grand prize is an appearance on Jack Hanna's show, "Into the Wild," at the Columbus Zoo and a six-week trip to the Shamwari Game Reserve in South Africa.
In 2005, Muter met Jack Hanna, a TV personality and expert on wildlife, when Hanna came to Ferris for an event sponsored by the FSU Outdoor Club, a student organization Muter helped create. The following year, Hanna was back for another event.
Muter said he has been a fan of Hanna since he was a kid, and meeting him twice was a great experience.
"Jack is probably the most down-to-earth guy you'll ever meet," said Muter.
Muter is the coordinator of Michigan's Morris Udall Foundation, an independent federal government agency operating out of Arizona. Muter said the program teams up with local organizations for underserved youth to take children camping in the Upper Peninsula and explore Pictured Rocks and the Tahquamenon Falls.
Muter worked at the Udall Foundation in Tucson, Ariz. for one and a half years between graduate programs. While working at the foundation, he helped lead children on hikes in the Grand Canyon.
Muter is currently researching tuberculosis in Michigan cattle for his dissertation. He said he is interested in educating hunters and those who raise cattle in preventing the spread of tuberculosis. According to the USDA, bovine tuberculosis can be transmitted to any warm-blooded vertebrate. In Michigan, the disease is beginning to spread from cattle to deer.
Muter said his goal is to eventually begin working for a state or non-profit wildlife agency.
"My hope is ultimately to go back into a university setting to teach, but I want to go out and have that real-world experience," Muter said.
Muter is currently working on achieving his doctorate from MSU. If Muter wins the contest, he may have a chance at the real-world experience and even a television appearance.
To cast a vote for the contest, go to columbuszoo.org/contest/vote.aspx. The deadline for voting is Dec. 8. n