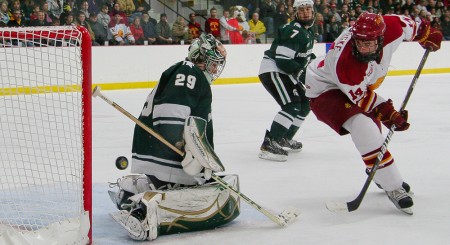 One minute and six seconds. That's all the time the 20th-ranked Bulldogs had left to go from being swept to taking a series split against Michigan State this weekend.
With the score knotted at 0-0 with overtime winding down, junior defenseman Chad Billins fired a shot from between the blueline and the left circle that deflected off Spartan Tim Buttery into the net, clinching the late victory for the Bulldogs at Munn Ice Arena in East Lansing.
"It happened to hit their guy and head in," said Billins. "I was just trying to get the puck on net and we were fortunate enough to get a goal there."
In a night where goals were hard to come by, as senior Ferris goaltender Pat Nagle stopped 28 shots and Spartan goaltender Drew Palmisano turned away 30 shots, the Bulldogs clinched their third win out of the last four meetings against the Spartans.
"I'll tell you, it makes for a much better week of practice come Monday," said Ferris head coach Bob Daniels. "We'll take the win and it's important, it's a confidence boost, and we'll just move on from here."
The first game of the home-and-home series was a much different story, though, as the Bulldogs and Spartans traded goals in a 3-2 victory for the Spartans on Friday. Michigan State's Brett Perlini netted two goals in the contest, including a goal just 36 seconds into the game.
The Bulldogs held a 34-22 advantage in shots on goal, but a late goal from Spartan Dean Chelios with 9:22 left in the third period sealed the Spartan's victory.
Senior center Nate Hennig notched his fifth goal of the season in the contest, with the other Ferris goal coming from freshman left wing Garrett Thompson to give the Bulldogs a 2-1 lead at the 11:08 mark in the second period.
The game also marked the first contest back for senior captain Zach Redmond since his injury against Miami (OH) on Nov. 5.
"My foot had been bothering me in practice a little bit, but we discovered that it shouldn't break again," said Redmond. "It's still not 100 percent, I'm just trying to contribute and help where I can."
After the weekend action, the Bulldogs now sit at 8-6-3 overall and 5-5-3 in the conference. The Bulldogs return to action with a home series against Alaska on Dec.10 – 11 before the team takes a break for the holiday break. The Bulldogs will take part in the 20th annual Dodge Holiday Classic in Minnesota on Dec.31 – Jan.1 during the holiday break. n