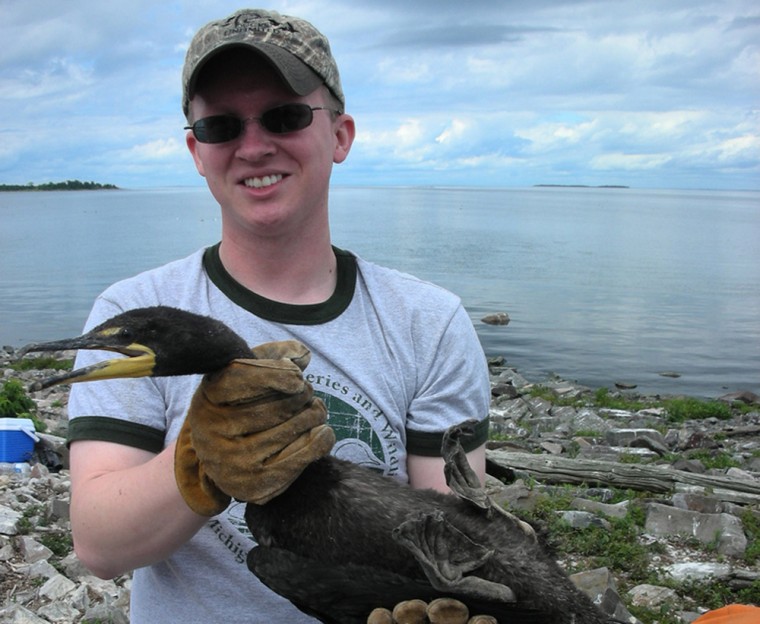 Recently featured in the Torch as a finalist for the "Wanna Be Like Jack Hanna" contest, Ferris alumni Bret Muter has taken third place in the competition that encouraged contestants to prove their love of wildlife and nature.
The competition allowed Muter to showcase his desire to take care of the environment and everything in it and to also educate others about it, just as Hanna does himself.
"As a former president of the FSU Outdoor Club, I helped coordinate Jack's appearances at Ferris in 2005 and 2006 as part of the Club's 'Outdoors Brought Indoors Week.'" said Muter. "Jack is incredibly friendly and down-to-earth. It was a blast hanging out with him and his crew during both of his appearances at Ferris and hearing some of his stories."
Muter was thrilled with the reward for his astounding placement; out of over 200 contestants, he won a three-day VIP and behind-the-scenes shadowing experience at the Columbus Zoo in Ohio, the zoo in which Hanna is director emeritus.
"We haven't scheduled the trip yet, but it will probably take place later this spring. Hopefully, I'll be able to visit when Jack is in Columbus," said Muter.
Muter is not only excited about his placement in the competition, but also a little bit shocked.
"I was really surprised to find out I was selected as a finalist. Making it that far was a huge honor in itself," said Muter. "During the two and a half week public voting period, I basically had to go into campaign mode to try and get the word out. I spent hours each day talking to local media outlets and using social media to try and get votes."
Muter is well qualified to win the award. He serves as the Michigan coordinator of the Udall Foundation's Parks in Focus program, which uses photography to educate and connect young people to nature. Big Brothers Big Sisters of Mecosta and Osceola Counties as well as the NCCS Boys & Girls Club of Newaygo county are given the opportunity to visit protected areas and parks in northern Michigan to discover nature and its history through this effort.
Through Muter's hard work, people are learning about the importance of wildlife conservation at an early age, which has the potential to make a huge impact.
"I have been involved with Parks in Focus since 2006 and have assisted with the coordination of programming in Arizona, Michigan, Montana, New York, Maine, California, and Wyoming. I have been running the Michigan program since 2007," said Muter.
Muter is currently continuing his education at Michigan State University, working on his PhD in the department of fisheries and wildlife, and is excited about what the future of his passion holds.
"The contest has definitely helped reinvigorate my desire to continue my work in conservation and environmental education. It has also ignited an interest in using television and other forms of media to get people interested in wildlife and conservation," said Muter.
To view Muter's application video, as well as the videos of the first and second place winners, visit columbuszoo.org/contest/results.aspx. To learn more about Muter and his work, visit msu.edu/~muterbre/Welcome.html. n