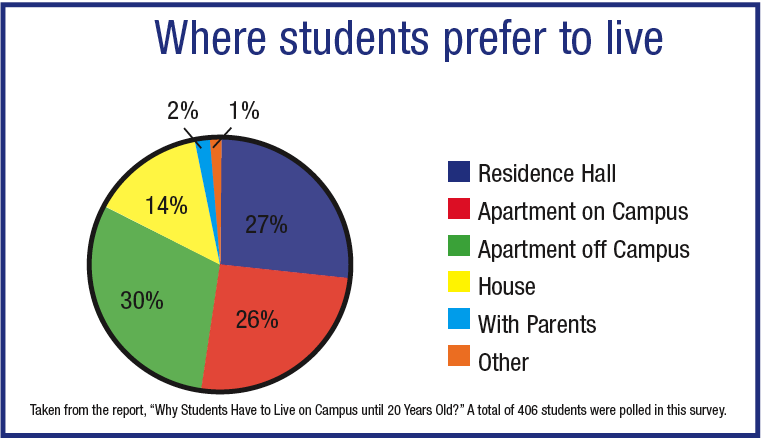 A group of FSU students conducted a recent survey of student opinions regarding Ferris' housing policy.
The survey of just over 400 Ferris State students was conducted by social work students as a class project. Brittany Ithal, Sami Guldswog, Angel Bieber and Ray Kelley wrote the report for their SCWK 320 final paper. Their results showed that a majority of students would like to see a change in the Board of Trustees policy on student housing.
The survey reported that 73 percent of students polled are against being required to live on campus for their first two years. Although 89 percent believe there is a benefit to living on campus, especially in their freshman year, a majority of students are in favor of seeing the policy requirements reduced to one year of living on campus.
Currently, the policy requires students who cannot live at home to live in the university's residence halls until they are 20 years of age. However, there is a peer review board that can make special exceptions to the policy if the student is able to provide reason.
Vanessa Pontius, a junior in the medical technology program, said she was approved by the board to live off-campus when she was 18 years old due to financial reasons.
"I wrote a three-page essay describing my financial situation to the board, and my request was approved," Pontius said.
The Residential Life website states, "Studies have shown that living on campus is truly no more expensive than living off campus when all such relative costs of convenience are compared."
The students' research shows that students who are living in a double-occupancy dorm room for an academic year spend just as much as someone living in an off-campus apartment, such as Tioga or Venlo. However, students spend $1,170 more living in a single room on campus than an apartment. These figures do not include meal plans.
The group of students met with Housing Director Jon Shaffer to discuss the policy. According to their report, Shaffer said the policy allows students to gain real-world experience without dire consequences. It also gives younger students a transition period from living at home to living on their own.
Shaffer said the policy will change at some point because Ferris State is currently one of the only universities in the state to still have a two-year on-campus residency requirement.
"Is it going to be tomorrow? No. Is it going to be 20 years from now? Probably a lot sooner than that, but we will go to a one-year residency requirement at some point," Shaffer said.
The university's newest student satisfaction survey showed 91 percent of students living on campus either agree or strongly agree that they like living on campus.
"Students are telling us they are happy with it, but when the time comes, they are ready for a different experience," said Shaffer. n