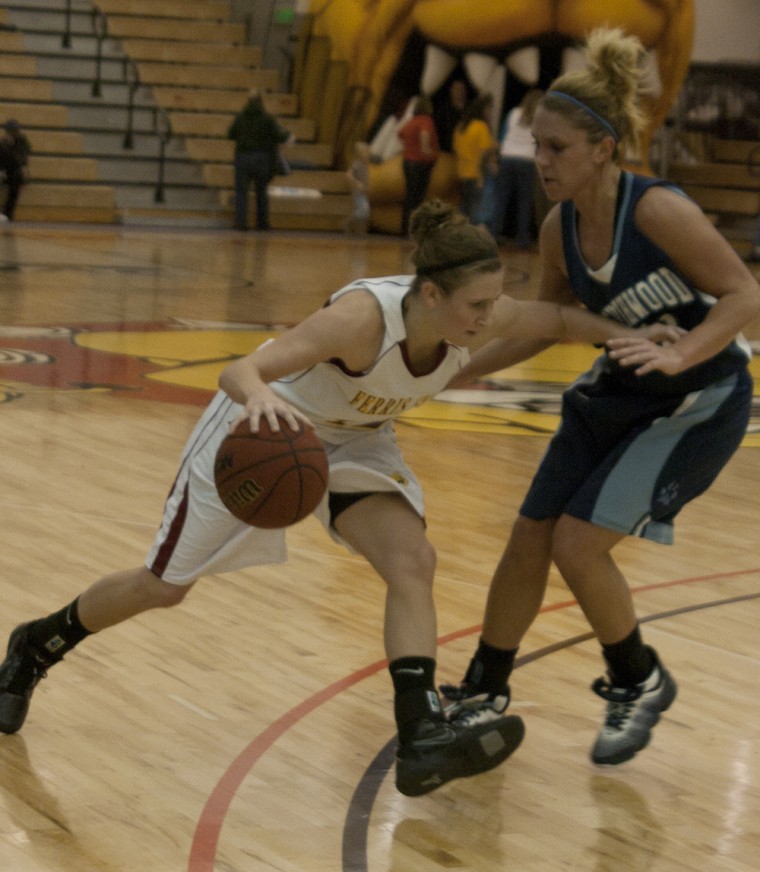 Ferris has been struggling to get a grasp on the competition in the GLIAC after losing two games to conference foes Lake Superior State and Saginaw Valley State recently.
Currently the Bulldogs sit near the bottom of the GLIAC standings. Ferris lost to league unbeaten Lake Superior State 73-56 on Jan. 6. The Lakers are tied with Michigan Tech for first place in the GLIAC with a 6-0 conference record.
"We did not play up to our level," said senior guard Becci Houdek. "We had a great week of practice and thought we were prepared and ready but we did not execute well on the floor."
LSSU held a double-digit lead from the middle of the first half until the end of the game. The Lakers outrebounded the Bulldogs 33-30, grabbed 13 offensive rebounds, and forced 16 Bulldog turnovers while scoring 15 points off of those takeaways.
Lake Superior's Emily Joseph scored a game-high 28 points on eight for 10 shooting from the field and the free throw line. Four of her five three-point attempts helped the Lakers sink the Bulldogs.
"As a team, we are looking forward to playing them again because we know we are a much better team than we showed on Thursday night," said Houdek.
For the Bulldogs, senior forward Tiara Adams and junior guard Kelsey DeNoyelles each surpassed double-digit scoring with 13 points apiece. But their efforts were not enough to get by the undefeated Lakers.
"I think we all worked hard so there was no lack of effort, we just had poor execution on both ends of the floor," said Houdek.
Ferris dropped their third consecutive game to Saginaw Valley State, as the Cardinals kept the Bulldogs from breaking out of their recent slump. Saginaw Valley narrowly defeated the Bulldogs with a 70-67 score, as the loss marked the Bulldogs' fifth consecutive loss on the road at the Cardinals O'Neil Arena.
The Bulldog ladies held an eight point second-half advantage midway through the half, but could not maintain the lead. The Cardinals whirled past the Bulldogs and held a seven-point advantage with a little over three minutes left in the second half. Ferris narrowed the lead down to two with 39 seconds left in the second half. The Bulldog ladies sent up a three point shot as the seconds dwindled, but the shot missed and Ferris suffered the loss.
"We have the talent to be a top GLIAC competitor and I do not think we are out of the race," said Houdek. "We just need to pick up our game in these next few weeks and get the job done."
The Cardinals advanced to 4-8 overall and 2-4 in the GLIAC by outrebounding the Bulldogs 42-37. Ferris is now 6-8 overall and 2-6 in the GLIAC.
Ferris will next head to Northwood University to face the Timberwolves on Saturday, Jan. 15. Northwood is currently 1-5 in the GLIAC and 5-7 overall and is on a three-game winning streak. During their last meeting on Dec. 11, the Bulldogs defeated Northwood 81-79. n