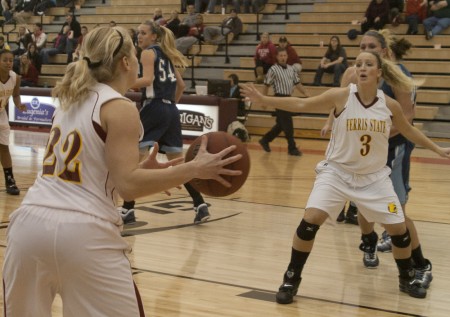 Ferris State snapped a four-game conference losing skid by defeating Northwood 65-55 on the road on Saturday.
The Bulldogs secured the GLIAC win by attacking the basket and outscoring the Timberwolves in the paint 26-20. Ferris also took advantage of Northwood's miscues by holding a 16-8 edge over the Timberwolves in points off of turnovers.
"We stuck together and had each other's back," said senior forward Tiara Adams. "We played a hard 40 minutes and that's what it's going to take every night to win games in this league."
"We all played very solid and that is what was key," said senior guard Becci Houdek. "We didn't need to have one person score 30 points; instead, everyone contributed."
The Timberwolves defined the first half with a three-point lead over the Bulldogs. Both teams struggled to get shots to fall in the first half, boasting poor shooting percentages. Ferris managed to limit Northwood to only eight field goals in the opening half.
As the second half began, Ferris came out of the locker room filling the net more efficiently than the 28 percent performance from the field in the first half. The Bulldog win was secured by a 43-30 point final half effort. Ferris finished the second half making 47 percent of its shots from the field. During the final two minutes of the game, the Bulldogs held the Timberwolves without a field goal.
"We need to keep focusing on the little things like rebounding, being in the gaps on defense, and taking care of the ball to continue to be successful," said Houdek.
Houdek finished the game with nine points, nine rebounds, and a game-high tying five assists. Junior guard Tricia Principe was the only Bulldog to reach double digits in scoring with 14 points along with eight rebounds. Ferris is now 3-6 in the GLIAC and 7-8 overall.
"For us to be contenders for the conference tournament, we have to treat every game like it is our last," said Houdek.
The Bulldogs will next play the GLIAC North Division leader Michigan Tech to attempt to give the Huskies their first loss in the conference. The Bulldogs lost their first meeting with the Huskies this season 64-43 on Dec. 18 at Michigan Tech.
Ferris will now have home-court advantage on their side. The Bulldogs are 2-2 in the conference at home this season, with losses to Hillsdale and Tiffin of the GLIAC South Division. Both Hillsdale and Tiffin are 5-4 in the conference.
"Michigan Tech is a really good team but we can't allow ourselves to get caught up over their record," said Adams. "We are athletes and we love to compete no matter who we face."
"The Michigan Tech game is always a big game," said Houdek. "They are a very solid team, but we thought we played well up at their place besides the fact that our shots weren't falling."
The Bulldogs will face Michigan Tech on Jan. 20 at FSU's Jim Wink Arena with tipoff scheduled for 8 p.m. The Bulldogs will continue their home-stand by facing Northern Michigan on Jan. 22 at 3 p.m. n