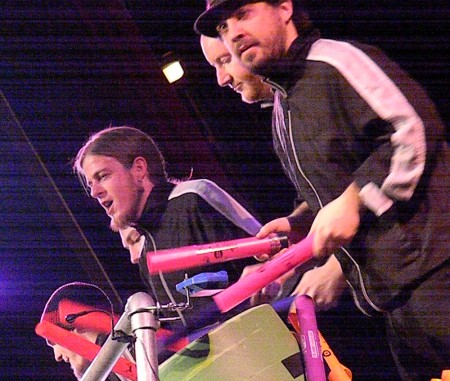 Plastic Musik, a Las Vegas-based group, performed at Ferris with a high level of energy; unfortunately, the group's high energy surpassed that of the audience.
With all the fliers and advertisements for Plastic Musik circulating around campus, I was very surprised to see a less-than packed Williams Auditorium. By the time the show began, there were nearly half of the seats in the auditorium left unfilled.
Plastic Musik began the show by playing "Wipeout" with their Boomwhackers, which are brightly colored plastic tubes banged against one another or other plastic objects to create different notes. Though the show began with a high-energy song, the audience seemed less than ecstatic.
"They seemed repetitive; they needed to add some kind of variation into their act and it was hard to distinguish the songs, but the Boomwhackers were intriguing," said Ben Jackson, sophomore in the pre-pharmacy program. "I felt like the audience was lacking energy, but that was partly the group's fault. The members didn't inspire energy, other than DJ Bomb Pop."
"We are trying to upgrade to a more visual show and incorporate more movement around the stage," said Andy Burnette, member of Plastic Musik, during their show. "We've also been thinking about glow-in-the-dark."
It is possible those changes might have kept the audience's attention more successfully.
The group covered many types of songs. They played various pieces by Lady Gaga, Dead or Alive, The Jackson 5, and several other artists along with two of their own original songs.
"As a musician myself, I appreciated the true musicianship of the members," said Adam Cieslinski, freshman in pre-optometry. "I was intrigued by the fact that they could take a sheet of piano music and somehow play it with plastic tubes. I was glad to see that they chose a variety of genres."
Plastic Musik also did covers of classical music, such as "Flight of the Bumblebee."
"People don't believe we can play 'Flight of the Bumblebee' live…and sometimes we can't," joked Burnette.
The group was unsuccessful with its first attempt at the song, but managed to complete it on their second try.
"Their attempt at the 'Flight of the Bumblebee' was impressive to some degree, but didn't really sound right," said Jackson.
The audience seemed to take a liking to one band member in particular who stood out: DJ Bomb Pop. For one song during the show, DJ Bomb Pop left his turntables to "play" a plastic bag, which brought much laughter from the audience.
"DJ Bomb Pop really added to the energy with his unique instruments and sense of humor, but it was a relief to know that he actually has talent and was an original group member," said Cieslinski. "You could really feel when the audience recognized a song because it would suddenly become more into it. However, at times it was difficult to pick up on what the group was playing."
Plastic Musik's unique show was entertaining, but the plastic instruments lost their novelty only a few songs into the evening's performance. n