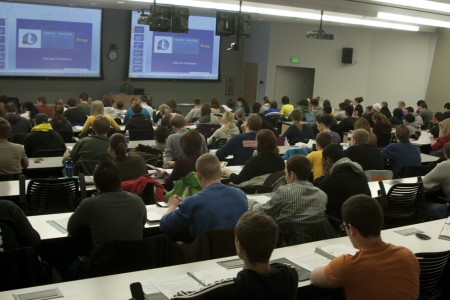 Ferris' College of Pharmacy has plans to add a new building for its third-year pharmacy students.
Having completed the Michigan College of Optometry, the university is now planning to use its funds for its College of Pharmacy.
Recently passed by The Michigan House of Representatives, House Bill 5858 provides funding for new State Building Authority (SBA) projects. The nearly $380 million capital outlay bill granted Ferris a total of $6.6 million for an educational center and facility for third-year professional program pharmacy students in Grand Rapids.
With plans to be developed on Grand Rapid's "Medical Mile," the new seven-floor building will be located at 25 Michigan Ave.
"This is a perfect location to invest state resources," said Stephen Durst, interim dean for the College of Pharmacy. "The location of this building is very beneficial. It is in the heart of all healthcare developments."
According to Durst, the project is very important for Ferris' College of Pharmacy. Durst said it is rewarding to see the university working hard to complete the project.
"The whole university is involved in this," said Durst. "There is a tremendous amount of support in arranging and pushing this forward. It not only advances the university and college by having presence in the Medical Mile, but it offers a host of new opportunities."
The facility will be a standard instructional building, and will hold new classes, new offices and a state-of-the-art clinical skills lab. The College of Pharmacy plans to add on additions to increase space and expand the program.
"I am looking forward to hopefully being able to be a part of the pharmacy program," said pre-pharmacy freshman Nicholas Kenny. "This is something that will benefit me in the future and will expand my learning experience."
According to The American Association of Colleges of Pharmacy, Ferris has one of the top Doctor of Pharmacy degree programs in the country. It is shown that more than one-half of the pharmacists practicing in Michigan are Ferris graduates.
Previously, Ferris' pharmacy students were split between Grand Rapids and Kalamazoo Medical Education and Resource Center.
"This will greatly help students in which they will no longer be divided," said Durst. "The class formed can continue without any separation."
Ferris' new pharmacy facility is scheduled to be available fall 2011. n