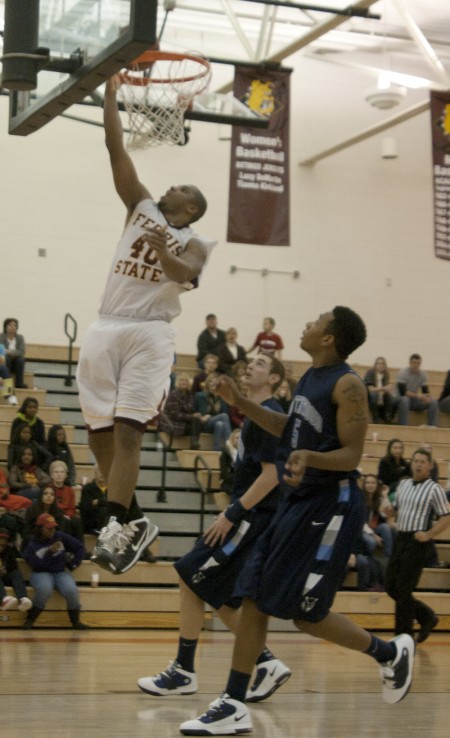 The Ferris State men's basketball team recorded its highest scoring game of the year as they picked up a conference win, defeating Northwood University 94-85.
Ferris head coach Bill Sall thought his team did a great job down the stretch closing out the game, as they went 11-12 from the free throw line down the stretch.
For most of the game, the score remained tight as there were 13 ties and 13 lead changes. Trailing by two with 6:11 left to play, the Bulldogs went on a 12-1 run and they would not trail again for the remainder of the game.
Senior forward/center Justin Keenan led all scorers with 33 points and 12 rebounds in the double-double effort.
In their highest scoring game of the year for the Bulldogs, there were plenty of points to go around as senior guard Matt Dehart recorded 18 points, sophomore guard/forward Kenny Brown had 12, and two other Bulldogs chipped in with nine points. Senior guard Darien Gay fell one point short of a triple-double, as he piled up nine points and 10 assists along with a career-high 14 rebounds.
"I believe Justin had his best game of the year as he took what they gave him and did a nice job of sharing the ball," said Sall.
For the game, Northwood held an advantage in most of the major stat categories with the exception of shooting percentage and rebounds. In the second half, though, Ferris made its living at the free throw line as the team went 21-26 (80.8 percent) and 23-32 for the game.
With the win, Ferris is now only one game behind GLIAC North division leader Grand Valley State. Ferris State currently boasts the record of 11-5 overall and 7-2 within the GLIAC.
Sall knows that with 10 games left, every game is important and his team has to be prepared to play every night.
"GLIAC has a lot of good teams, more then I have seen in a while," said Sall. "We have to have the ability to come out and be tough every night."
The Bulldogs have now won five of their past six games with their only loss coming out of conference against Eastern Michigan.
Michigan Tech accounts for one of the Bulldogs' two conference losses as Ferris fell on the road to the Huskies 74-71 on Dec. 18. They will look to keep up their hot play and avenge their earlier loss as they play host to Michigan Tech on Jan. 20.
"Last time, Tech played very well and took it to us; being able to come back and get a win will be huge," said Sall. n