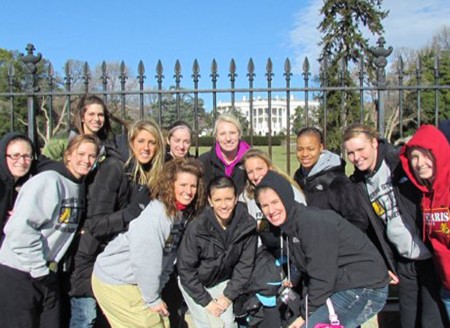 Over the holiday break the Lady Bulldogs toured the nation's capital while on their way to play in two basketball games in Maryland.
The Bulldogs visited the White House, but due to the holidays were unable to take a tour inside. Besides visiting the White House, the Lady Bulldogs also visited other important sites, including the Washington Monument, the U.S. Capitol Building, the Eisenhower Building and the Lincoln Memorial. The Bulldogs spent their day off on Dec. 28 sightseeing.
"Sharing the white house experience with my team was great," said Senior forward Tiara Adams. "I love all my teammates and I can't think of better people to take trips with."
"That day was a great bonding experience for the team and we have become closer because of it," said senior guard Becci Houdek. "The day was exhausting, but it was definitely worth it."
Houdek said visiting the U.S. Capitol Building was very informative and interesting. The Lady Bulldogs were able to see where the House of Representatives meet and the Bulldogs also learned a lot of information while visiting the Capitol Building, said Houdek.
"Overall, it was a great trip for our team and we all had a good time," said Houdek.
The Bulldogs returned from a weeklong holiday break on Dec. 27 and traveled by bus to Maryland where they competed in the Bowie State Lady Bulldogs Holiday Classic on Dec. 29-30.
The Bulldogs defeated Virginia Union on a neutral site in Bowie (Md.) 69-43 in a game Houdek said was a lot of fun. Everyone got the chance to play, said Houdek.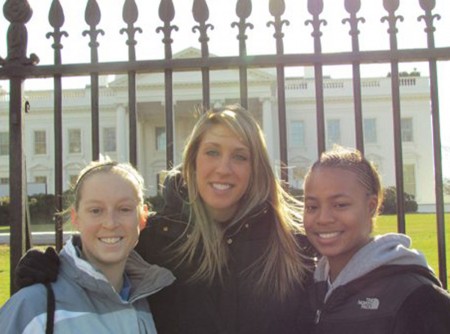 The next day the Bulldogs played Bowie State (Md.). Ferris could not hold on and lost by a narrow margin 63-60 to Bowie State. Houdek said the game was very competitive and close. Had the Bulldogs scored their last-second three-pointer, the game may have ended differently, said Houdek.
"We played very well and came up three points short at the end," said Houdek. "We had a chance to tie the game at the buzzer, but missed the three-pointer."
Ferris will stay in the Midwest for the rest of the season to compete against teams in the GLIAC to better their chances at making it into the GLIAC tournament. n