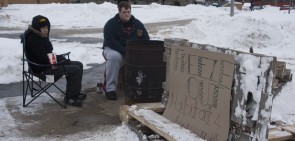 Alpha Chi Rho fraternity members braved cold weather conditions camping out in tents for 48 hours in Ferris' quad.
Alpha Chi Rho's (AXP) first annual freeze out was an opportunity to raise money for the non-profit organization Habitat for Humanity. The freeze out took place Jan. 18 at 12:00 p.m. and continued to 12:00 p.m. Jan. 20. Among the organizations involved in the fund-raiser was local Big Rapids business Mr. Karl's Hairdressing.
AXP Vice President Corey Cordell said the fraternity currently helps Habitat for Humanity through Box City, an event to raise awareness for homelessness, in the fall. He said the idea for the freeze out was created while members were deciding on a more extreme way to raise money in the winter.
"We are always looking to do various events to help the community of Big Rapids and other communities around this part of Michigan," said Cordell.
Cordell said fraternity members were able to stay warm by wearing layered clothing and lighting a drum fire in the quad.
AXP Secretary Anthony Sztuczko said he camped outside for a total of 10 hours between Jan. 18 and 19. He said a lot of students were interested in knowing why the fraternity chose to camp out in the quad.
"I think their approach is unique in a way that can grab just about anyone's attention," said energy systems engineering student Peter Diep. "I feel that they are doing a good cause that shows that fraternities aren't about only partying, but also getting out into the community."
According to Cordell, AXP raised approximately $150 in student donations.
"It helps show that the Greek community on campus can work to help our area and the campus," said Cordell. "It also brings our brothers together to become more united which helps us work together to come up with more fundraising ideas. Plus it helps a wonderful organization."
Sztuczko said AXP is hoping to make its first-ever freeze out an annual event. AXP is also currently planning future fund-raising opportunities.
"We've always had a strong tradition of donating to those in need," said Sztuczko. "We wanted to show people that fraternities are about more than partying. We wanted to show that we benefit the communities we exist in and our brothers, too, by showing that fraternities have a strong moral standing." n