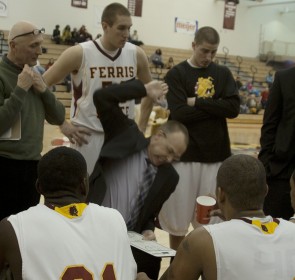 The Bulldogs remained perfect at home this season by racking up two GLIAC wins to set up a colossal match-up against Grand Valley at the 131 Showdown.
Ferris toppled Michigan Tech on Thursday and took down Northern Michigan on Saturday to stay one game behind GLIAC North Division leader Grand Valley heading into the showdown at Van Andel Arena in Grand Rapids. The victories also pushed the Bulldogs' home record to a perfect 9-0 for the season.
The Bulldogs pulled out a 70-60 victory over Michigan Tech behind senior forward/center Justin Keenan's 28 points and 10 rebounds, with 17 points coming in the second half. Senior guard Matt DeHart posted his fourth-straight double-digit scoring effort with 17 points, including five three-pointers.
"We can't lose at home," said DeHart after the win. "We have to win out and we want to win as many games as we can. We want to win the GLIAC championship and I have to step up and hit big shots. I'm a senior, so I find it fitting that I should be expected to do that."
Ferris led by a point with 4:14 left in the contest, but a 15-6 scoring advantage in the final minutes sealed the win for Ferris, avenging a road loss to the Huskies on Dec. 18.
The magic number of the weekend turned out to be 70 as the Bulldogs also posted 70 points in the matchup against Northern Michigan on Saturday, taking the contest 70-63.
The Bulldogs kept the Wildcats at bay for most of the game, but Northern pulled within five points with 1:09 left to give Ferris a scare at the end. Ferris iced the game with two free throws combined with a Wildcat turnover.
The contest proved to be a historic day in Bulldog history as Keenan moved into second place on the all-time scoring list at Ferris with a 31 point effort. Keenan passed Jesse Mangham (1966-72) on the all-time list. Keenan said the accomplishment felt great, but he never would have reached it without his teammates.
Fellow senior forward Lou Williams also put his name in the Ferris record books as he moved into a tie for first in school history in blocked shots. Williams notched five swats in the contest to move his career total to 142, tying the mark set by former Bulldog Adam Anderson (1998-2003).
Not everything was historic, though, as the Bulldogs shot only 36 percent from the field in the game.
"It's pretty good that we can shoot 20 percent from two and still win the game, which is good," said Ferris head coach Bill Sall. "But everyone in the locker room realizes the easy games are done…we haven't really played the upper-echelon teams so we really have to focus in on getting better."
The Bulldogs will now head into the 131 Showdown with a chance to take first place in the GLIAC North with a win against the Lakers. The men's contest will tip-off at 8 p.m. on Saturday, with tickets still on sale at 131showdown.com. n