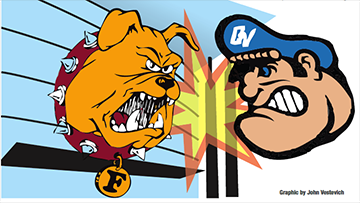 After months of build-up, the 131 Showdown has finally arrived and both Bulldog teams head into the matchup with momentum on their side.
With the Bulldogs picked to finish second in the GLIAC North behind Grand Valley in the GLIAC Preseason Media Poll, the polls were right as both teams come into the match on Saturday at their predicted positions, as Ferris trails the Lakers by one game in the division.
The Bulldogs will try to keep a five-game winning streak alive against the 18th-ranked Lakers, who come into the game having won six-of-seven games.
Ferris senior forward/center Justin Keenan will figure to be the focal point of the Grand Valley defense, as the preseason Division II player of the year is averaging 22.6 points a game on 57 percent shooting from the field.
The Lakers will also have to look for the kickout pass, as senior guards Matt Dehart and Darien Gay have taken advantage of defenses crashing on Keenan lately by cashing in on some outside chances. Dehart has been hot from behind the line, as the three-ball has led him to double-digit scoring in four of the last five outings for Ferris.
Ferris will have to watch out for Grand Valley senior guard Justin Ringler, as he leads the team with 13.8 points a game and 5.4 rebounds a game, but the biggest enemy might be the second half. The Lakers have outscored opponents 740-579 in the second half of games this season while the Bulldogs have outscored their opponents 688-654 in the second half.
The Lady Bulldogs come into the showdown on a three-game winning streak, including an upset over 8th-ranked Michigan Tech on Jan.20. The Lakers have won two-of-three heading into the battle at Van Andel Arena in Grand Rapids.
Defense could determine who comes out on top in the contest, as the Lakers allow only 59 points a game; Ferris allows 64.4 points a game.
Grand Valley will look to senior center Alex Stelfox and sophomore guard Briauna Taylor to lead the offense, as both players are averaging 14 points a game to lead the Lakers offense.
Ferris boasts two double-digit scoring threats as well, as juniors Tricia Principe and Tiara Adams lead the team with 12 points per game averages for both players. n