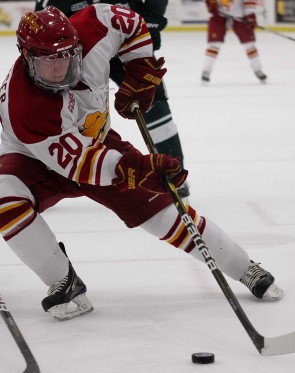 Two teams now tied for fourth in the CCHA battled it out on Jan. 21-22 to see which team deserved a shot at the top.
Now the Bulldogs are feeling the pressure to win games after dropping two games to Northern Michigan over the weekend. Northern defeated Ferris 2-1 on Jan. 21 and then topped FSU 3-1 on Jan. 22 to give the Bulldogs their third and fourth consecutive losses.
"I think that overall we played a pretty good series, but it's starting to come down to needing to win and playing well isn't going to mean anything unless we can start winning," said senior defenseman Zach Redmond.
Ferris scored in the final three minutes of the first contest, but the Wildcats came right back with under two minutes to play and evened the game to 1-1. Ferris then lost 2-1 in overtime.
The Bulldogs are 1-2-4 in overtime sessions this season. Senior left wing Mike Fillinger scored his fifth goal of the season in the matchup.
"I had a bit of heartburn over Friday's game," said Ferris head coach Bob Daniels. "We didn't make a lot of mistakes on Friday but the ones we made were capitalized on."
The Bulldogs tried to ramp up the offense in the next game of the series by attacking the Wildcats net by putting up 33 shots on goal compared to the Wildcats' 18. But the Wildcats' goaltending kept Ferris from scoring more than one goal. Junior right wing Aaron Schmit slapped in the Bulldogs' only goal. Daniels and Redmond thought the Bulldogs' only problem that night was the puck did not hit the back of the net.
"I felt that we played great but still came up short," said Redmond. "We had plenty of chances to score on Saturday and couldn't find a way to do it."
Ferris is now one point ahead of seventh-place Ohio State, locked in a three-way tie for fourth place in the CCHA.
"There's a sense of urgency to win games now," said Daniels. "It's great that we're playing well, but we need to start turning that into victories."
Next the Bulldogs will host the Michigan State Spartans on Thursday in the Ewigleben Ice Arena to try to snap out of their current slump. Michigan State sits at 10th place in the conference. Ferris has only beaten the Spartans away from home this season. Daniels hopes the team will build off of their last performance and earn a win against the Spartans.
Ferris fans can take advantage of a buy one, get one free deal when they buy an adult ticket for the game. This offer is only redeemable by visiting the FSU Ticket Office and not applicable to current students. Opening faceoff is set for 7:35 p.m. n