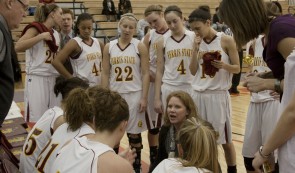 The Ferris State University women's basketball team rallied in the final minutes to upset nationally eighth-ranked Michigan Tech University Thursday at the Jim Wink Arena.
"We had confidence the whole time," senior guard Becci Houdek said. "We decided Monday we were going to win this game."
With 2:39 to play, the Bulldogs trailed by five points, 58-53, before coming back to give the 8th-ranked Huskies their first GLIAC loss of the season.
Junior guard Tricia Principe cut the lead to a single point on back-to-back three pointers with 1:40 left in the game.
"When you're shooting, you've just got to have confidence that you're going to make it," said Principe. "I hadn't made a shot all game."
Following a defensive stop, FSU seized the lead on a basket from junior forward Tiara Adams with 44 seconds remaining.
After a Michigan Tech turnover, Principe was fouled and sank both free throws to seal the win and avenge a 64-43 loss to the Huskies on Dec. 18.
"We deserved to pull off the upset and a get over the hump type game," FSU head coach Tracey Dorow said. "I'm really proud of the work they've done and how they played tonight."
The victory marked the Bulldogs' second over a ranked team this season. FSU defeated Gannon in the Nov. 21 match-up. Both Gannon and Michigan Tech were NCAA Division II Elite Eight qualifiers last year.
Adams led FSU with a season-high 19 points as well as three assists and three steals. In addition, she was a perfect 9-of-9 from the free throw line.
Houdek added 12 points to go with nine rebounds and seven assists.
Principe's eight points all came in the final 2:20 of play.
"We played well and made it a great game tonight," said Dorow. "It's about consistency of effort and performance. We're beginning to carry things over from practice to the games and hopefully they are starting to see what happens when that is done."
The Bulldogs continued their winning streak Saturday with a resounding 74-44 victory over visiting Northern Michigan.
"You always worry a little about a letdown after a big win; however, we were very focused today," Dorow said. "Northern's a good team, but we did a great job defensively."
At halftime, FSU led NMU 40-19. The Wildcats never pulled any closer than 24 points the remainder of the contest.
The win showed improvement from a 75-56 setback to Northern Michigan Dec. 19.
"We're so much better now than we were when we played them up there earlier in the year," said Dorow.
A balanced Bulldog scoring attack was led by Houdek's game-high 17 points.
The victory was the third-straight for the Bulldogs, who improved to 9-8 overall and 5-6 in the GLIAC. n