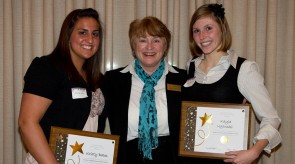 Honors students who achieved a 4.0 for the fall 2010 semester were rewarded at Honors Awards Night Jan. 28.
The event recognized Outstanding Leaders, Volunteers and Scholars. Students nominated students in the Honor program for these awards.
Elizabeth Schroeder, from Kinross, Mich., is one of 90 students who was awarded for achieving a 4.0.
"I'm really excited to receive this award because it makes me feel like my hard work really paid off," Schroeder said. "After all those hours of studying, getting an 'A' is definitely an accomplishment!"
Whitney DeYoung, from Kalamazoo, received the Outstanding Volunteer Award.
"It is not easy to volunteer my time and efforts as a Pharmacy student, but I know how important it is to be involved and to volunteer in order to serve the community," said DeYoung.
Erica Asaro is one of the students to receive an Outstanding Leader award.
"I am very grateful to have been one of the few students to be recognized for this award," said Asaro. "I worked very hard last semester to earn those grades."
Asaro said a great deal of people attended the event. Many Honor students' families and friends were there to support them. There was also a large amount of faculty in attendance as well.
Tammy Babcock is the coordinator for Honors Awards Night. She said she is proud of the students for all of their hard work and accomplishments.
"It's a lot of fun, it really is," Babcock said in regards to the event.
Cody Becksvoort won the Outstanding Scholar Award.
"It was a true honor to receive this award," said Becksvoort. He went on to say he could not have achieved this award without his professors, the Honors program and the support of his family and friends.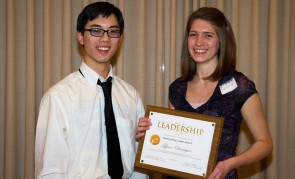 These students realize the support of family and friends helped them reach their goals.
"My family and boyfriend have just been so supportive through everything. I'm so thankful and I love them all," said Schroeder.
DeYoung states that the support of her roommate and friend drives her in her work.
"Kayla Uganksi…what she may not realize is her leadership, community service, and outstanding academic success in our program is what drives me to be involved," DeYoung said. "Kayla is my right-hand girl." n