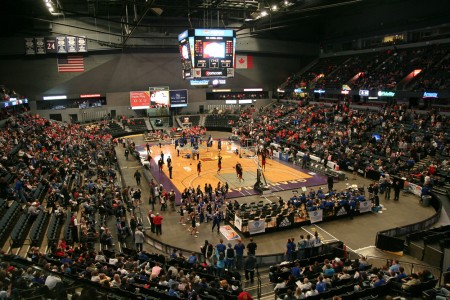 Nine seconds. That's all the time the Bulldogs had to prevent a devastating loss to rival Grand Valley at the 131 Showdown at Van Andel Arena on Saturday.
Trailing 67-65 with only seconds left in regulation, the Bulldogs turned to their senior leader forward/center Justin Keenan with the game on the line. Keenan had a look on the baseline and put up a jumper that was slightly off the mark.
But Ferris pounded the boards after the missed shot, as it did all game with a 49-34 rebounding advantage, and junior guard Dontae Molden made arguably the biggest play of the game with a tip-in with just one second left to send the contest to overtime.
"It wasn't anything I drew up, let me tell you," said Ferris head coach Bill Sall after the game. "That's a whale of a putback."
The 15th-ranked Lakers couldn't stop the Ferris momentum after that, as senior guard Darien Gay came out firing by scoring the first five points of overtime and the Bulldogs converted seven-of-12 free throws to clinch a dramatic 79-72 victory in front of the 5,863 people in attendance.
The monumental win put Ferris into a tie with Grand Valley atop the GLAIC North Division with both teams at 10-2 in conference play. It also marked the sixth-straight win for the Bulldogs and the eighth win in nine games.
Keenan again led the Bulldogs' effort with a game-high 24 points along with 12 rebounds in his hometown of Grand Rapids. But fellow senior guard Matt DeHart played the game of his Ferris career with a career-high 21 points as DeHart nailed six shots from beyond the arc. DeHart also tacked on eight rebounds and four steals.
"Coach always told me, 'You're a shooter, just keep shooting,'" said DeHart. "I'm glad that I could contribute and help my team to this win; it's a big win for us."
Gay posted 12 points, five of them in overtime, and Molden had a solid effort with eight points, six rebounds and six assists on top of his late-game heroics.
Grand Valley was paced by senior Justin Ringler's 20 points and eight rebounds before fouling out in the overtime while junior James Thomas chipped in 18 points.
"I told our guys that we have to move on," said Grand Valley head coach Ric Wesley. "We have two road games next week and that's our focus."
Although the Bulldogs were relentless on the boards all night, they specifically dominated the offensive glass with a 22-5 advantage in offensive rebounds to set up 14 second-chance points.
"That's one thing I like about our basketball team is that we're mentally tough," said Sall. "They won't go down and they just keep fighting."
The two teams will meet again in the regular-season finale at Ferris' Jim Wink Arena on Feb. 26 in a game that could decide who wins the GLIAC.
The Bulldogs will hit the road following one of the most memorable games in program history in recent memory, as they will travel to Sault Ste. Marie to face off against Lake Superior State in a GLIAC contest on
Thursday. n