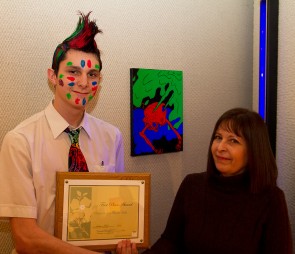 With last Wednesday marking the fourth Annual Honors Art Show, sophomore Megan Luk looked at the works and their creators with the chance of a very promising future.
"I think it's really important that we read about great artists. Who knows? Maybe the next one's coming from Ferris," said Luk.
The show contained some extremely unique and impressive pieces, with over 20 artists entering.
Junior Elizabeth Troost has attended the show in the past, and agreed the turnout and variety have continued to grow.
"We've pretty much outgrown the room. There's a bigger variety of work as well. It used to be a lot of paintings, but this year we have a Beatles cabinet, recycled artwork, and a lot of other pieces that are really creative," said Troost.
Creator of the Beatles cabinet, junior Kimberly Johnson, spent over two weeks working on her project.
"I am absolutely in love with the Beatles and I always thought it would be awesome to make furniture of something I'm in love with. Art's a fun thing to do and it shows another side of yourself and people," said Johnson.
For many of the contestants and observers, art is exactly that: a chance to escape from their majors and express themselves or find themselves through appreciation of others' creations.
"I think it's a great outlet and a different use of the brain since Ferris is heavy in science majors. It's an opportunity to move out of those areas. It gives students a break from monotony," said Honors Program Coordinator Maude Bigford.
"Art really allows students to use their creative outlet. It lets them use a different part of their brain and be more than scientists," said freshman Audrey Nichoson.
Sophomore Andrew Grix agreed that one of the great features of a university such as Ferris is the opportunity to move education and growth outside the classroom.
"It's more than just about learning. It's about bettering yourself and becoming enriched," said Grix.
Rankin Art Gallery Director Carrie Weis also emphasized that art is not only to be appreciated, but is also to be understood, interpreted, and communicated.
"Art is a really critical part of being human. We are inundated with images every single day, through cell phones, TV, the Internet, and a variety of sources. I think it's important that we understand what we are seeing and how it affects us. And one of the best ways is to get into it and attempt it ourselves," said Weis.
For example, one particular piece caught sophomore Erika Derylo's eye, in which a hand of multiple shades of brown was depicted with a rainbow of colors coming from it, seemingly a symbol of ethnic acceptance and unity.
"I really like the message some of these works show. It really shows diversity at Ferris," said Derylo.
The night ended with two winners, one a judge's favorite winning a $100 gift card, and the other a crowd favorite, winning a $50 gift card.
Judge's favorite was freshman Ethan Wagner, who created a painting using florescent paint, then illuminated it by a black light. Wagner himself could easily be matched to his painting, as he too painted himself in the bright colors found in his work.
"It was very surprising to be picked by the judge, but I'm glad she picked up on the style of art I was going for and the elements and subtleties. My favorite field of art is pop surrealism," said Wagner.
Wagner did at least a month of research on his field of art before beginning, though it took him only about a week to paint.
"It's a personal representation of an emotional outburst. I tend to bottle things up and this is what I wanted it to be," said Wagner.
Crowd favorite winner sophomore Stefanie Edington also said her work carried a lot of emotion behind it, as warm reds, oranges, and yellows took up the canvas in the formation of flames. The piece took her only a couple of hours.
"I was really angry with someone in my life and this piece was very cathartic. A lot of emotional baggage came out in it. I really like in-the-moment splatter art," said Edington.
Edington was an advanced art student in high school, participating in various competitions and took on her own projects. One of her favorite things about art shows is admiring the works of her friends and fellow students.
"I love coming to the art gallery, and this was great because I know half the people that entered. It's great to support them and see what they've done. It's so nice to have art appreciated here," said Edington. n