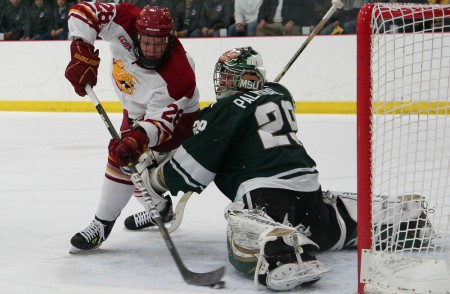 Ferris State snapped out of a four-game slump and now sits in sixth place of the Central Collegiate Hockey Association after a win against Michigan State on Thursday.
The Bulldogs earned three points to boost them into their current standing in the CCHA after defeating Michigan State 2-1. Coach Bob Daniels feels the win was much needed and will keep the team in the race for a home ice playoff position.
"I have felt that over the last few weeks that our performances have been very good but, the results haven't been what we wanted," said Daniels. "So I'm hoping now that the results will start matching our performances."
Ferris started the game off with two first period goals coming from junior center Jordie Johnston and senior defenseman Zach Redmond.
"I felt like the team played great and we came out of the gates focused on what we needed to do and never let up," said Johnston.
Johnston outhustled two Michigan State defenders while receiving a pass up the ice from junior defenseman Chad Billins. He then dangled the puck in front of MSU's goaltender and backhanded it into the net. The goal was Johnston's fifth of the year.
Redmond converted on a power play opportunity for his seventh goal of the season. His goal would also be his third game-winning goal of the season, tying a career-best for a season that he set last year.
"The win was enormous for us, it changes the whole locker room atmosphere," said Redmond. "It helped us to forget about the losing streak and got us back on track."
Michigan State assembled their offense in the third period to earn a goal during a power play. The Spartans also claimed a 10-5 shots on goal advantage in the period. But senior goaltender Pat Nagle would let only one goal past his pads before claiming his 12th win of the season. With the win, Nagle has tied his single-season career best record for wins that he set last year.
Nagle and Redmond were the two stars of the game. They have also been nominated as candidates for the Hobey Baker Award. The award is given to the nation's top collegiate ice hockey player. Redmond and Nagle are among 68 other candidates for the award.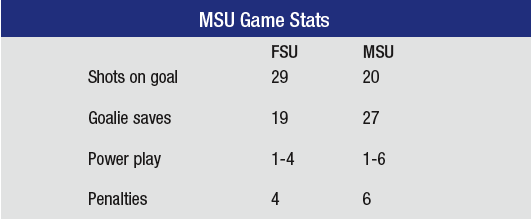 Ferris State improved to 12-12-4 overall and 9-10-3-2 in CCHA play after snapping the four-game winless streak. Redmond is focusing on winning and earning home-ice advantage during the playoffs.
"Now we can move on and get ready for Alaska with a clear head instead of wondering why we can't win," said Redmond. "We don't have many games left in the season and it's important that we finish strong and win."
The Bulldogs will next take the ice Feb. 4-5 on the Alaska Nanooks ice at Fairbanks, Alaska. The Nanooks are a point ahead of the Bulldogs in the CCHA, sitting in fifth place. Ferris split their home series with Alaska Dec. 10-11 of this season. On Feb. 4 the game will be televised on Fox Sports Detroit. The puck will drop at 11 p.m. n