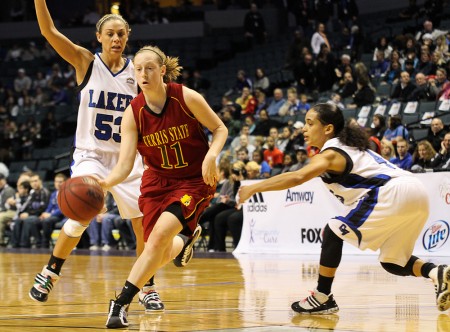 The Ferris State University women's basketball team lost a heartbreaking 69-62 decision to nationally ranked Grand Valley State University Saturday at Van Andel Arena in Grand Rapids.
"It was a great atmosphere, and we came out strong," junior guard Tricia Principe said. "Unfortunately, we couldn't keep it going long enough to get the win."
Despite the Bulldogs 37-33 halftime edge, the nationally 22nd-ranked Lakers took control in the second period. GVSU totaled 35 points in the second half compared to 25 for FSU.
Although the Lakers led by as many as 10 points, the Bulldogs pulled within three in the final two minutes. However, GVSU used four free throws in the last 40 seconds to hold on for the win.
The opening game of the 131 Showdown recorded 5,113 fans for the women's crowd.
"It's exciting that we've had this opportunity, and we just want to thank everyone that has been associated with that," head coach Tracey Dorow said. "Basketball-wise, we'd love to do it again."
Sophomore forward Brittany Taylor's game-high 16 points spelled trouble for the Bulldogs. Taylor was one of four GVSU players in double-digits.
FSU was led by senior forward Tiara Adams' 14 points. Principe added 11 points while freshman Sarah Deshone chipped in 10 points.
The Bulldogs were forced to play without senior guard Becci Houdek and senior center Andrea Clancy, who were both injured during second half play. Fortunately, Houdek was able to return to the game.
"We had some players that were out and that always changes your chemistry," Dorow said. "We didn't have the match-ups we wanted to have out there, and they [GVSU] did a good job of attacking the match-ups."
The Bulldogs fell to 9-9 overall and 5-7 in the GLIAC. The loss ended the team's three-game winning streak. The Lakers improved to 15-9 overall and 8-4 in the GLIAC.
GVSU now has a three-game lead over FSU for third place in the GLIAC North division standings. The top-three teams in each division as well as the two teams with the next best records qualify for the postseason conference tournament.
"We just have to go to practice, work hard, and be determined to qualify for the tournament," Deshone said.
FSU will return to action Thursday at Lake Superior State University. The Lakers defeated the Bulldogs 73-56 earlier this season.
"These guys knew they had a chance, Grand Valley took it away, and we've got to make sure that doesn't happen again in the next seven games," Dorow said. "It's one game at a time for us." n