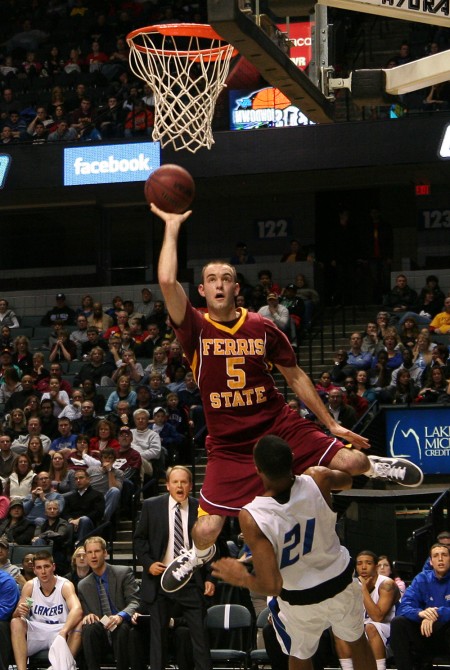 It's rare to see an event that's been surrounded by hype live up to expectations.
But that's exactly what happened with the 131 Showdown, as 5,863 fans were treated to the rare phenomenon of an event living up to the hype.
When the matchup at Van Andel was announced at a press conference back on Oct. 20, the matchup of Grand Valley vs. Ferris had the makings to be a decent event with both teams figuring to be major players in the GLIAC this season.
But I believed the event would be more of a glorified home game for Grand Valley and really didn't expect much in fan attendance from Ferris.
It's not that I think Ferris fans are not good fans, but when I see empty seats all around at Ferris basketball home games, even with the recent success of the team, I didn't envision many Ferris fans shooting down 131 to catch the game.
As I made my way into Van Andel on Saturday night, I was pleasantly surprised to see a nice representation from the Ferris side with people clad in crimson and gold abound. Of course Grand Valley had its supporters with the game in Grand Rapids, but the Ferris crowd genuinely seemed to be more into the game.
As the Bulldogs and Lakers traded buckets all night long, the Ferris fans jumped around and appeared to look like an official college basketball crowd.
It was no version of the Cameron Crazies or the Izzone, but it was refreshing to see the intensity and passion of the fans for once.
With the two teams separated by only a game in the GLIAC standings coming into the showdown, there was no denying that this game benefited from having the conference on the line.
As the Bulldogs move toward the end of the regular season, the support shown in the showdown in Grand Rapids needs to be brought back to Big Rapids as the team battles for a GLIAC crown.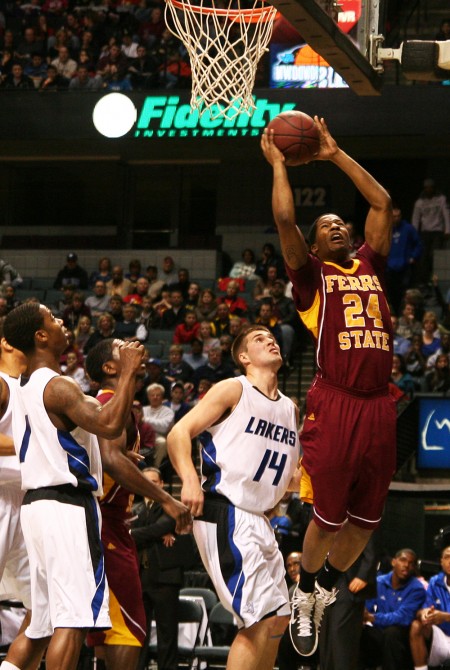 Fans need to bring that energy from Saturday to Jim Wink Arena in the final stretch of the regular season because the Bulldogs deserve to be supported like that with the play they've showcased during this season.
So as Ferris has four home games left in the regular season, take the time to check out a team battling for a conference title, because you never know the next time you'll get to be part of a conference title chase. n