One of Ferris State Athletics most dedicated supporters has recently passed away.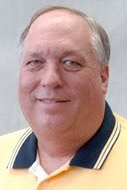 Paul Davis, the Bulldogs' former ticket manager, passed on Jan. 17 at the age of 63. Davis spent 34 years working the ticket booth and witnessing Ferris State athletic history.
"When we were working the games, we couldn't always watch," said co-worker Paul Quick. "So we would go to away games when we could or listen to them together on the radio."
Davis arrived at Ferris as a student in 1968 and began his position as the school's assistant business office manager in 1970. He retired from his position in 2004.
"Paul was very loyal; he loved what he did, and he was as proud of the success when we had it as a coach or a member of the team," said former Athletic Director Tom Kirinovic. "He was always there and I knew I could count on him."
Davis never missed a home basketball or football game serving as the ticket manager from 1970-2005. He also attended every home game for women's basketball.
"He was a great guy. No matter what kind of day you were having he could put a smile on your face," said women's coach Tracey Dorow.
During his tenure, Davis worked as the original ticket manager for hockey when the program began in the mid-1970s until a full-time person was hired to sell those tickets. Quick, a close friend and co-worker, worked alongside Davis for 22 years. Upon Davis' retirement, Quick took his position. Davis continued to do part-time work at both Ferris State and Lake Superior State for Woodbridge Management and Educational Services.
"They would always call us 'the Pauls,'" said Quick. "When they saw me, they saw him or when they saw him, they saw me."
After he retired, Davis still attended Ferris athletic events and became a full-time Bulldog fan upon retirement. His favorite sport to watch was softball, but he also attended other sporting events he could make it to.
"Paul was a Bulldog," said Dorow. "He cared a lot about other people."
Davis witnessed a majority of records posted by student-athletes in football and men's basketball. n