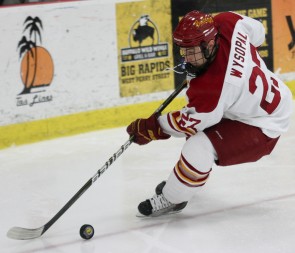 The Bulldogs dealt with a flight delay that put them behind in their schedule but now sit ahead of Alaska in the CCHA.
Ferris State swept the Alaska Nanooks for the first time since the record setting 2002-03 campaign where the Bulldogs were regular-season champions. Ferris defeated Alaska 2-1 and 3-2 for the sweep. These wins were also the first at Alaska since 2002-03 and snapped a 10 game losing streak on the Nanooks' home ice.
Ferris is 14-12-4 overall and 11-10-3-2 in the CCHA in fifth-place with 38 league points, a point behind fourth-place Western Michigan.
"What we did well this weekend was played within our system and in my opinion we outworked them the majority of both games," said senior defenseman Zach Redmond. "It was an outstanding team effort both nights and we were rewarded."
Senior goalkeeper Pat Nagle had 31 saves on the night and was lined up for a shutout before Alaska scored with 33.2 seconds left in regulation on a six-man advantage. Scoring for the Bulldogs were sophomore center Travis Ouellette and sophomore right wing Matthew Kirzinger.
"Nagle was definitely on top of his game this weekend," said Redmond. "I would say that the sweep was a direct result of his play this weekend and he has been great for us."
Ferris was outshot 32-25 in the tilt and overcame a late rally where the Nanooks had at least four opportunities to net the equalizer. Senior right wing Todd Pococke made the game's defining play by blocking a shot from the Alaskans' Joe Sova to preserve the victory in the final seconds.
"Because Alaska is a very similar team to our squad we knew we had to play a tight defensive game and take advantage of our opportunities when they came and fortunately we were able to do that," said junior center Jordie Johnston.
In the second game, senior left wing Mike Fillinger would tally his fourth point in six games to lead to a win. Though Alaska outshot the Bulldogs 31-23, Ferris slid three pucks past the Nanooks while Nagle denied all attempts at tying the game for the Nanooks.
The game started with an early goal by Alaska and a 13-2 shots on goal advantage in the first period. But Ferris turned things around in the second period, outshooting the Nanooks 16-4 and scoring two goals.
The Bulldogs went into the third period tied 2-2. Fillinger tallied his sixth goal of the season and first game-winning goal this year. Alaska posted a 14-5 shots on goal advantage, but Nagle rejected Alaska's equalizing attempts.
"Our last game against Michigan State was a huge win and we fed off it this weekend," said Johnston. "Now we have a few wins behind us and the wheels are rolling."
Nagle has set a career-best for wins in a single-season at 14 wins. Ferris is now on a three-game winning streak and will look to increase it this weekend against Alabama-Huntsville at home on Feb. 11-12. n