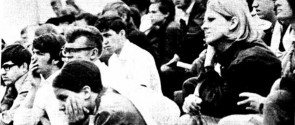 In March of 1969, more than 200 African-American students staged a sit-in at Ferris' Starr Building. Fast-forward to 2011, and the voice of students marching in protest has appeared to have gone silent.
Black Leaders Aspiring for Critical Knowledge's President Markus Woods hopes students will make their voices heard through marches once again.
"It can really make a difference in what can be changed on campus," said Woods.
He said he recognizes the social differences between the current generation and those of previous years. Woods said today's college students have become laid-back and unaware of the changes that could be made through non-violent protest.
Woods has been involved in a variety of campus projects including the annual MLK march, the recent "United We Stand" discussion and the 2011 Image Awards. He said he notices there are campus issues that need to be addressed.
"We portray this image that everything is unified and that we have a diverse campus, and deep down there are people still facing racism and students don't know a lot about other people's cultures," said Woods.
However, for students like Ferris medical technology major David Ward, marches and sit-ins have become a practice of the past. Ward said a large number of students have begun to use online blogging and social sites to protest and express their beliefs.
According to a 2010 analysis by social media website socialnomics.net, 96 percent of Generation Y has joined social networking sites. The website also states that 54 percent of bloggers post content on a daily basis.
Ward said the trend of instant internet access has caused students to create social gatherings online.
"A lot of students speak out through the internet these days through means of Facebook and Twitter," said Ward. "It's a way to get your opinions out there and maybe change the minds of students who come in contact with your ideas online. I have seen a few groups that were formed online that have managed to obtain a lot of followers."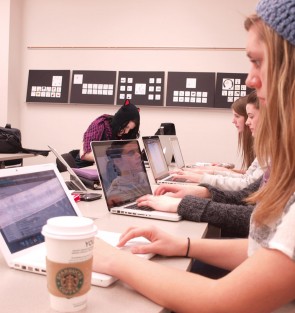 Still, there are some Ferris students who see blogging as an ineffective means of creating social change.
Ferris student Robert Johnson agrees that blogging has replaced more traditional forms of protest. However, Johnson said online blogging does not bring students and faculty together to address their issues.
"Ferris State administrators are not blogging and reading their students' Facebook updates," said Johnson.
Woods said he hopes that maybe through his organization he can influence a new generation of leaders to continue marching in the steps of those who came before them.
"Looking at our generation, I notice a lack of leadership," said Woods. "I hope that through our events, people can one day step up and eventually become the leaders our
community needs." n