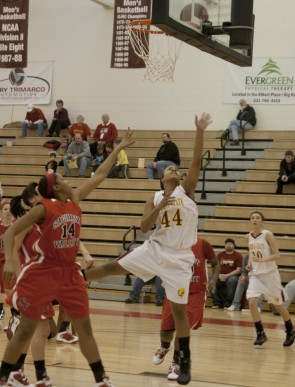 The Ferris State University women's basketball team utilized a quick start on their way to a decisive 83-66 win over Saginaw Valley State University Saturday.
The Bulldogs scored nine of the game's first 11 points in the initial three minutes of play. Although the visiting Cardinals cut the lead to five points four different times, FSU managed to distance themselves for a 44-31 halftime edge.
Strong play continued through the second half as the Bulldogs increased their lead to 22 points only five minutes into the period. FSU's lead eventually grew to as many as 26 points.
The win avenged a 70-67 loss at SVSU earlier this year.
"We came out ready and very determined today. I was proud of the way we ran the floor. We transitioned very well and got the shots we wanted," said head coach Tracey Dorow.
The Bulldogs improved to 10-10 overall and 6-8 in GLIAC play. With only five regular season games remaining, the crucial victory kept alive the team's hopes of qualifying for the GLIAC Postseason Tournament.
"This win is huge," Dorow said. "We're battling to get in the tournament and every night is a rough night in the GLIAC, so we need to make sure we are getting wins, especially at home."
Junior forward Lindsey Pettit led FSU with a career-high 18 points as she moved into the starting line-up.
"It feels good when you're hitting your shots," Pettit said. "I had the mismatch. Some of their bigger girls couldn't guard as well out on the perimeter, so it was easier for me to attack."
Also reaching double digits for the Bulldogs were senior guard Becci Houdek with 15 points, senior forward Tiara Adams with 14 points and junior guard Tricia Principe with 12 points.
"We had a rough night on Thursday and today we came out with a lot more confidence," Dorow said. 
FSU dropped a 57-47 decision at Lake Superior State University on Thursday.
The Bulldogs trailed by 11 points with 5:12 to go in the contest yet managed to pull back within 4 points on a pair of free throws with 1:46 left. However, FSU could not get any closer and fell to the Lakers for the second time this season.
Adams led FSU with 17 points while Principe added 10 points. Freshman guard Sarah Deshone chipped in 8 points.
The Bulldogs will visit Lake Erie College Thursday before travelling to Ashland University Saturday as GLIAC play
continues. n