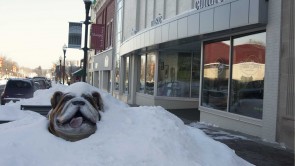 The Festival of the Arts pottery workshop was canceled due to Ferris' unexpected snow day Feb. 2.
Along with the university, the Big Rapids community seemed to take the day off as well. More than 10 stores in the downtown area never opened their doors Wednesday morning, including the Artworks gallery located at 106 N. Michigan Ave.
Margo Berke, local pottery artist and FSU catering executive, was planning on hosting the pottery workshop at Artworks, where she would demonstrate the basics of forming clay. Local community members along with FSU student Amber Williams were going to be creating their own pottery pieces.
Williams, a criminal justice major, was disappointed when she heard the pottery session was canceled.
"It's a good form of expression and I wanted to broaden my horizons in the field of pottery and gain more knowledge," said Williams.
She has been creating art since her freshman year at Chippewa High School. As a current Ferris freshman, Williams hopes to continue her love of art with classes such as the one Berke had planned.
Until the workshop is rescheduled, Berke hopes students and the Big Rapids community will continue to use their personal artistic abilities on their own.
"I know students are really busy with class and homework, but I always looked at art as being a great escape or stress reliever," Berke said.
Berke encourages students to partake in some form of art, whether it be observing or trying to create their own piece. She hopes students are open minded enough to try something different.
For students who may be intimidated by other artists or are too nervous to show others their work, Berke advises them to "do it for yourself."
Berke has been working with pottery for the past 15 years. She is fond of creating functional pieces, such as bowls, dishes and mugs, as well as forming sculptural art. Her artwork can be seen in the Artworks gallery gift shop. Her pieces have been discovered throughout the world including Scotland, China and parts of the U.S.
"Even to just look at Artworks, students might be inspired to try something new," said Berke. "It really doesn't cost too much to get involved. I like the idea of taking something really basic like mud and turning it into something beautiful and useful."
Artworks displays work from more than 40 different artists. Pieces range from wood carvings to water color paintings. All of the artists reside throughout Michigan, but most live within the Big Rapids area.
Berke hopes students "get their hands on something that they've never tried before," even if it as simple as a sketch book and some colored pencils. There are many artistic events happening in the area for students to experience, especially during the month long Festival of the Arts.
The pottery workshop event will be postponed until further notice. For more information about pottery or art workshops, contact Artworks at 796-2420. n