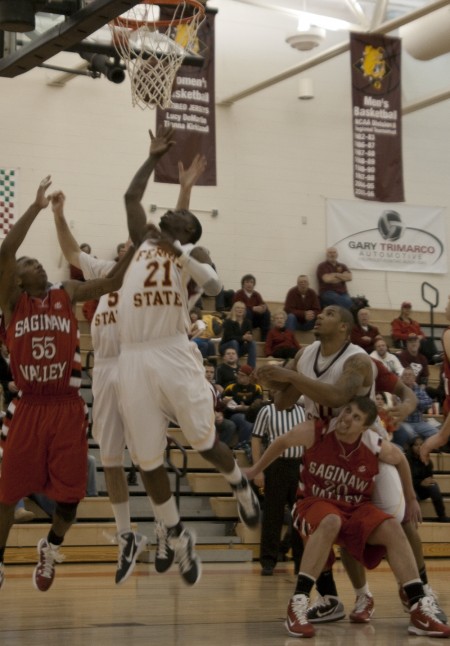 Ferris forward Lou Williams can point to certain influences in his life that have helped him get to where he is today.
If not for his grandmother, Lou might have never had the chance to plaster his name all over the Ferris record books.
"My grandmother was a huge influence in my life," said Williams, who became the all-time leader in blocked shots in Ferris history during a Jan. 29 win against Grand Valley State. "She was a huge basketball fan and she always wanted me to keep getting better."
Williams continues to use her influence to keep improving his play, as Williams has elevated his game in his senior season to help the Bulldogs to an 18-5 overall record and to the top spot in the GLIAC North.
Williams, a Muskegon Heights native, has steadily developed into a premier defender for the Bulldogs during his career, as Williams has now passed former Bulldog Adam Anderson's previous school record of 142 career blocks. Williams also set the school record for blocks in a game this season, as he notched eight swats in a 70-68 win over Saginaw Valley on Feb. 5.
"Lou's an eraser for us on defense," said Bulldog center Justin Keenan after the 131 Showdown on Jan. 29. "I know that whenever I mess up on an assignment that Lou's got my back."
Although Williams is honored to have his name among the great athletes in Ferris history, he knows that his job is not finished this season if he wants to reach his main goal.
"Just like anyone else, I'd love to end my career going out on top with a national championship," said Williams. "I had a feeling we would be good this year, but I had no idea that we'd have the success that we've had this season. So I've just got to keep pushing myself if we want to get there."
While the 6'7" Williams has developed into defensive playmaker in college, the old adage, "You can't teach height," can sum up the beginnings of Williams' basketball career.
"I was taller than everyone else growing up, so I figured basketball was the sport for me," said Williams. Williams said it wasn't until 10th grade that he realized his basketball skills could possibly translate to playing ball in college.
After a high school career in which Williams helped lead Muskegon Heights High School to three-straight state playoff appearances, including a 67-60 loss in the Michigan Class B State Championship Game in 2005, Williams followed the path of many other Muskegon Heights players to Ferris.
Williams attributed his decision to come to Ferris to talking with his high school teammates at Ferris, including his prep teammate and former FSU guard Jessie York, about the Ferris program. Williams was also coached by former Bulldog Keith Guy, further influencing his decision to become a Bulldog.
After redshirting in 2006-07, Williams quickly started making his mark on the program as he ranked fifth in the GLIAC in blocks in 2007-08 in his first year of playing.
Williams has since proceeded to lead Ferris in blocked shots in every year that he has played, leading him to his record-setting milestone this season against Grand Valley.
"It feels awesome to know my name will be in the record books after I leave, but it was especially awesome to set the record in an intense game against our arch-rival," said Williams. "You can't top beating your rival."
So as the Bulldogs enter the final three games of the season, including a season-ending battle against the Lakers on Feb. 26, Williams will set his sights on his last career goal.
"It's all about that championship now," said Williams. "That's how I want to go out." n