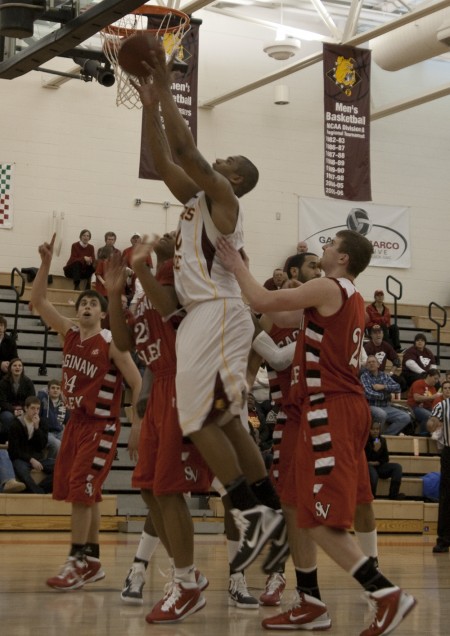 After winning their tenth consecutive game, the Bulldogs will now finish the regular season facing top-ranked teams in the GLIAC.
The Bulldogs shot 54 percent from three-point range to help earn a win over the Lake Erie Storm in the two teams' first ever meeting. Ferris defeated Lake Erie 77-64 with the help of a 30-point game by senior forward Justin Keenan. Adding to their win, Keenan pummeled the glass by grabbing a personal career-high 17 rebounds against the Storm.
"We had some really good performances off of the bench against Ashland," said Ferris head coach Bill Sall. "Any time you can go on the road and get two wins is huge."
Ferris State went on to defeat the Ashland Eagles 83-67 on Feb. 12 to improve to 18-5 overall and 14-2 in the GLIAC. The Bulldogs never trailed throughout the entire game, using a 13-2 edge in fast break points and an efficient 54 percent field goal percentage. Senior forward Lou Williams said it has taken confidence and consistency to build their current streak He attributes the team's recent wins to their confidence in their defense and offense, and "just being consistent in the things we do and that's coming to compete everyday."
Now there are three games remaining in the season for the Bulldogs. Each match is against a team that has been nationally ranked at some time. Ferris will need to finish the season against division rival Grand Valley State, along with GLIAC South Division leaders Findlay and Wayne State. Working in advantage for the Bulldogs will be their home court. Sall plans to have his team take each game one at a time.
"We're playing some great competition, teams that have been regionally and nationally ranked," said Sall. "Every game is going to be a war."
Ferris will finish the regular season at home inside the Jim Wink Arena, where they are 10-0 this season. The Bulldogs are sitting two games ahead of GVSU in the North Division of the GLIAC. If Ferris can win two of their last games, they will be lined up for a North Division Championship title. The last time the Bulldogs won the title was during the 2004-05 season.
The first matchup will be against Wayne State University on Feb. 17 at 6 p.m. in the Jim Wink Arena. Ferris will then take on No. 3 ranked Findlay on Feb. 19 at 1 p.m. in the same location. For the season finale, Ferris will battle GVSU Feb. 26 for a 131 Showdown rematch where the Bulldogs bested GVSU 79-72 during overtime. n