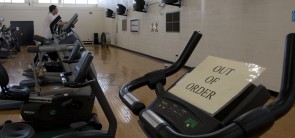 With New Years resolutions still in recent memory, many students are finding themselves at the student recreation center to burn off the still lingering "freshman 15."
Some of these students swim. Some run on the track. Others, however, run into some difficulty.
For those interested in using cardiovascular exercise machines, "out of order" is becoming a familiar phrase.
As of recently, there were four cyclers, four elliptical machines and one stair-climber out of order. That's nine cardio-based machines out of order—a fraction of the total machines, but an alarming figure nonetheless.
With so many machines in disrepair, Ferris students are left to wonder whether or not the facility is running into financial trouble.
"We get a few complaints," said a student SRC employee who wished to remain anonymous.
For students with knee or joint problems, the cardio equipment is the only real option to get fit. Running simply causes too much strain and these students are left waiting for an open machine during busy hours.
What is most distressing to some Ferris students is not so much the amount of broken equipment, but the lack of answers provided for those with questions. With no information posted on what the center is doing to better this situation, students are left only to wonder.
"The least they could do is post a memo about what is being done to fix or replace things," said John Crisi, a senior in the mechanical engineering technology program and a frequent visitor to the SRC. "Maybe it'll put a little pressure on them to get it done knowing people are expecting it."
Despite many of the machines being out of order, the SRC still boasts many machines in great quality, including a pair of impressive stepping machines.
There is also some concern over the dumbbells in the weight room. Students have been noticing a number of weights disappearing, with no new ones replacing them.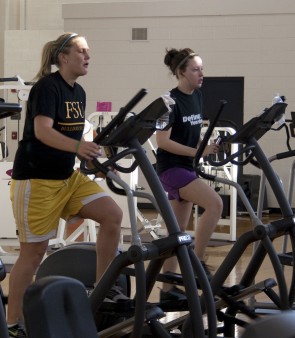 The room did not contain any weights between 55 and 85 pounds until last week. It is a significant interval as 55 may be too light for a person, but 85 too heavy.
"A lot of small talk that happens in the gym is usually 'these weights are horrible' as you try to find something usable," said Crisi.
Director of University Recreation Cindy Horn was unavailable for comment for this article. n