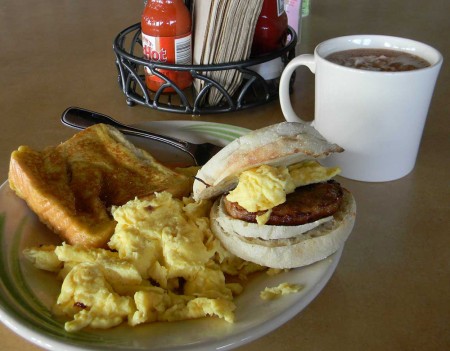 With a creative mind and an empty stomach, students can transform boring cafeteria food into unique entrees and snacks.
Over the years the dining halls have seen great changes. From Mascar Grille and Center Ice closing, to the renovation of the Rock Café, the changes have meant that students have had to make adjustments in their eating habits. No matter where you decide to eat, you have options, even if they are not clearly present.
With the new Rock Café serving a variety of entrees to feed an army of students, sometimes selection is not obvious, but that does not mean students don't have the option to eat healthy or have a meal that reminds them of home.
Chris Howell, a junior in communications, loves to mix and match to create a more unique dish while also staying healthy.
"I always use hummus instead of veggie dip; it offers a healthier option and I love the taste," said Howell.
Adding a variety of different sauces to a plain dish can really spice up a meal, especially with the addition of the mongo grill, which has 12 different sauce options that could change the flavor of a dish entirely.
"I love mixing ranch and hot sauce to make a spicy sauce that I put on everything. When I worked at a restaurant a few years ago, the cooks would use it as a sauce for their inferno burger," said Jordan Cyr, senior in business management.
Alyssa Anderson, a junior in welding engineering technology, never goes for the standard meals the Rock offers; she always tries to mix and match from different stations to offer a tastier option.
"I usually mix spaghetti and spinach from the salad bar, then top both with alfredo and tomato sauce to add more flavors. If there is chicken from the grill station I add it in. It's one of my favorite dishes," said Anderson.
With the new year well underway, most students are right in the slump of their diet and exercise routine. Spring break is right around the corner and students are trying to regain their motivation to continue their new year's resolutions. One of the best options students have is to innovate at the salad bar.
"Eating a salad every day can get boring, but when I go to the Rock they have the Mongo Grill. This gave me the idea to get buffalo chicken and put it on top of my salad to mix things up. I would recommend asking for half the amount though, they give you a lot," said Danielle Balmer, a junior in resort management.
The Mongo Grill offers a wide variety of veggies, meats and sauces to add to any salad that will break free of the norm. If you're sick of salads in general, try adding meats and veggies to pasta.
Need a break from the healthier options? Try satisfying your sweet tooth with different combinations of dessert. With unlimited soft serve, students have the option to create something that will satisfy any sweet tooth.
Missy Parker, a junior in chemistry, loves to mix and match different desserts to add more flavors to plain ice cream.
"At Westview, I always grab a cherry pie, heat it up in the microwave and then put a scoop of ice cream on top," said Parker. "Coming up with new ideas comes naturally. After awhile of eating the same thing, you have to start experimenting or else you will get bored with your food very easily."
Jonathon Jager, a freshman in professional golf management, shares his thoughts on living on campus and the dining facilities.
"Once I got to Ferris, I was surprised by the selection the Rock had, it offers a lot of different options right at your fingertips," said Jager.
Jager added, "With unlimited meals and a few years on campus, you have the ability to perfect your creations. Always try something new, and if it tastes bad, you'll always have another meal to try a new option."
Have a creation you would like to share? Comment online at fsutorch.com. n