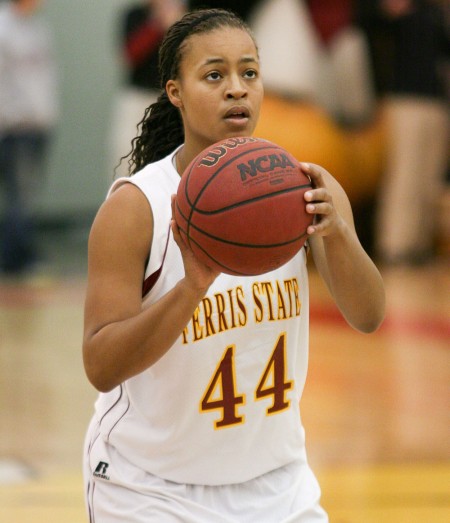 The Ferris State University women's basketball team suffered a pair of disappointing home losses this week to Wayne State University and University of Findlay.
The Bulldogs fell to 11-13 overall and 7-10 in conference play.
The losses essentially eliminated FSU from the conference tournament as the team is now ranked 10th overall in GLIAC standings with only one regular-season contest left to play. The top eight teams at the end of the year advance for postseason play.
Despite shooting 51.9 percent for a 34-30 edge after the first half, UF came back to defeat FSU 82-67 on Saturday.
"The locker room was pretty much silent after the game," junior forward Lindsey Pettit said. "Since that game was a must-win for us, we were really disappointed."
Senior forward Tiara Adams led the effort against the Oilers with 17 points and five rebounds. Junior guard Kelsey DeNoyelles added 15 points.
Preceding the setback to UF, the Bulldogs dropped another league game Thursday 83-74 to WSU.
Following a tight first period of play, the score was tied 33-33 at halftime. The contest featured 15 lead changes as well as five instances in which the score was tied.
FSU trailed the Warriors by three points with 3:41 to play. However, the Warriors used an 8-0 run to push their lead to 11 points and put the game out of reach for the Bulldogs.
"Our defense wasn't as strong as it has been," Pettit said. "We let them get some easy shots, and we didn't respond."
Senior guard Becci Houdek had 15 points and six assists for FSU. Junior guard Tricia Principe added 13 points, while Adams chipped in 12 points.
Thursday's game marked FSU's annual "Pink Wave Night" in support of breast cancer research. The Bulldogs showed their support by sporting pink shooting shirts during warm-ups as well as pink headbands and shoelaces during the game. The visiting Warriors dressed in special pink uniforms.
"I know several people who have been diagnosed with breast cancer," Pettit said. "It's fun to see everyone come out and support a really good cause."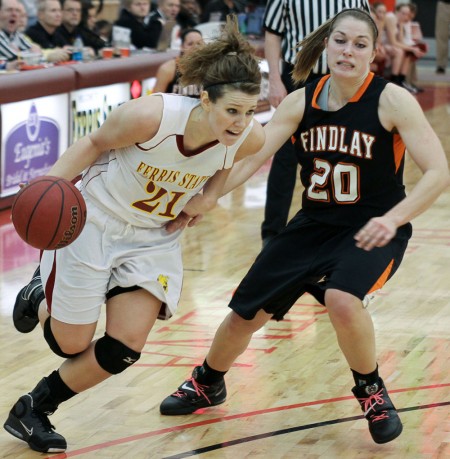 FSU will travel to Urbana, Ohio, Wednesday for a non-conference game against Urbana University. The Bulldogs will then return home for their final game of the season Feb. 26 against Grand Valley State University. FSU will honor its senior class of Adams, Houdek, and center Andrea Clancy at that time.
"Between it being Senior Night and the Grand Valley game, there will be a lot of emotions," Pettit said. "We want to go out strong, so we'll definitely be playing hard." n