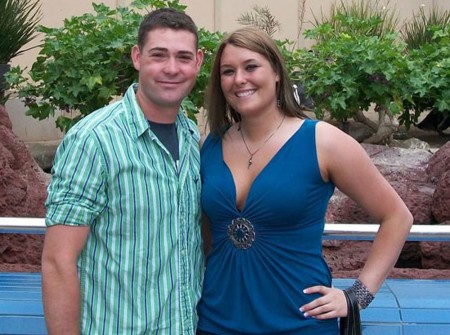 Jonni Skiba, FSU student in her second year of pharmacy school, recently became engaged to the man of her dreams whom she has only seen for an estimated 60 days throughout their entire three-year relationship.
Relationships are something that require constant care and work, which is hard enough to do when you're together let alone when you're apart.
While many Ferris students are in long distance relationships they are still able to see each other a decent amount of time.
Skiba and her now fiance Eric Williams have managed to foster there love with mostly phone calls and the Internet.
Skiba and Williams met three years ago and began dating two weeks before Williams had to leave for Marine basic training.
"I had never imagined being able to maintain such a long distance relationship, especially since we didn't know each other that well, so we decided to stay in contact with each other but see other people once it was time for him to leave," said Skiba.
Skiba and Williams went on this way for a little over a year and the pair always met up whenever he came back to Michigan. Skiba was his pen-pal during his first deployment to Afghanistan and during this time the two realized they wanted more from each other than to just stay friends.
"We both knew we had found someone special," said Skiba. "In January of last year, Eric was home again on leave and he asked me to get back together with him exclusively and I said yes."
Since then, Williams has come home twice and Skiba has been able to visit him two other times. He is currently on his second tour in Afghanistan.
"The crazy part of all of this is counting the days that we have physically been together," said Skiba. "It's only been about 60 days total in three years and the rest of the time has been through phone and internet."
Skiba admits that it's been extremely difficult at some points.
"I'd have to say that having this long distance relationship with Eric has been the toughest thing I've ever had to go through," said Skiba. "I've considered myself crazy many times, but the thing is, every time I have talked to Eric and every day I have spent with him has been incredible. A lot of time the only thing that has kept me from breaking down and crying is thinking about the next time I will get to see him."
Distance has made their love grow stronger though and Skiba believes they have learned to appreciate each other on an emotional level many couples don't experience and have really learned about who the other person is.
"The distance makes every phone call seem so important if only just to say 'I love you,'" said Skiba. "It makes us appreciate each other so much more knowing how much we want to be together and how much we miss each other. I feel I have gotten to know Eric on such a deep level through our long phone conversations and I know without a doubt he is the man I'm supposed to be with for the rest of my life."
Williams proposed to Skiba in March of last year when he was back in the U.S.
"He asked me to be his fiance two nights before my birthday and I said yes without hesitation," said Skiba. "We kept it a secret because we really had no idea when we could ever work out a wedding with Eric being in the military."
The couple decided to keep the engagement a secret even though they were completely serious and committed to it because they didn't think they could realistically have a wedding anytime in the near future. They still talked about marriage often despite this, but then when Eric was deployed this past October the talks almost completely stopped.
"I knew we still had the close connection with each other in our hearts, but it is so hard trying to squeeze a meaningful conversation into the few minutes he has on the phone. Our conversations started to be simply me asking if he was all right and if he needed me to do anything for him and him asking me to tell him how it was back home," said Skiba.
Things took a turn about two weeks ago when Williams called and asked Skiba for a favor. He said he wanted her to start planning their wedding and the couple agreed to get married before the end of his military contract in April of 2012.
"So within two weeks, almost everything is completely set up for our wedding, which will be on August 20 of this year," said Skiba.
After Skiba finishes school in two years and Williams finishes the year he has left in the Marines they will finally be able to be physically together. Skiba knows they will be able to get through their first year of marriage apart because they are making their relationship apart work right now.
"After I finish school and Eric finishes in the Marines we will be able to be together and everything else is just a detail," said Skiba. "I know there will be many challenges along the way, but I don't worry because we have already fought so hard to stay together."
To Skiba, making sure you completely dedicate yourself to the relationship despite the distance is extremely important. Setting time aside to talk and connect as much as possible to maintain the relationship lets the other person know you care.
"Another thing that has kept us together is our honesty," said Skiba. "We throw everything on the table, even if some things are hard to discuss on the phone. The lack of physical contact has actually enhanced our ability to relate on a more emotional level because it is all we have to be intimate."
Skiba feels so blessed to have found the man of her dreams and she knows they will always do everything they can to stay together.
"Eric is someone too special to let go. Our love for each other is so strong and I know together we can accomplish anything," said Skiba. "This long distance relationship has been the toughest experience of my life, but I wouldn't trade a moment of it because it has led me right to where I'm supposed to be." n