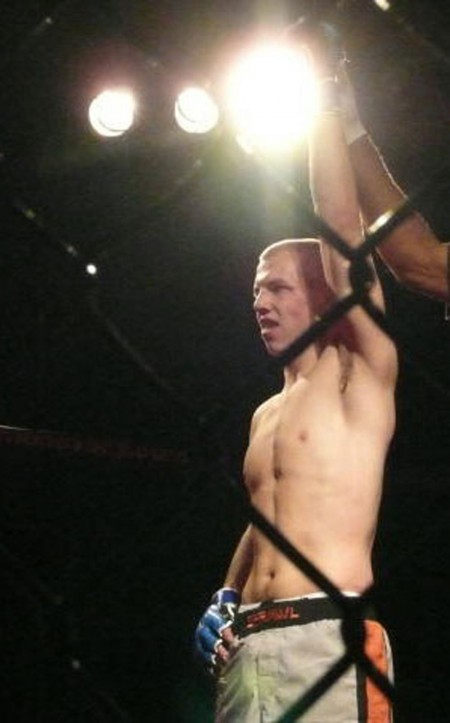 FSU student Corey VanBuren always needed a physical outlet to bring him peace. Growing up in Belding, VanBuren said he enjoyed physical sports that gave him an adrenaline rush.
"During high school, football was that outlet for those needs. After that was over, I didn't know what to do with myself," said VanBuren.
Hearing about Ferris' mixed martial arts club his freshman year, VanBuren decided to channel his desire into mastering the sport. A history education junior, VanBuren said he first became interested in MMA when he was 18 years old.
"I was already interested with the sport but had no means to train. When I arrived at Ferris I heard about the MMA club and decided to give it a try," said VanBuren.
Ferris' MMA club has been an official campus RSO since 2005. Meeting in the Student Recreation Center aerobics room, their training consist of club workouts, sparring and grappling. Of all the techniques involved in MMA sparring, VanBuren said jiu-jitsu is his main strength.
"Mixed martial arts is a wonderful sport because each person brings something different to the fight," said VanBuren. "There are so many different aspects that affect the outcome."
Currently an amateur fighter with a record of 6-1, VanBuren holds a championship title for his 170-pound weight class. VanBuren said throughout the summer he typically trains for five hours a day. This includes cardio training, boxing and wrestling.
According to VanBuren, a big misconception students have about MMA is the level of training involved in the sport.
"Most have this belief that you go in there and beat each other senseless," said VanBuren. "No good fighter will approach a fight this way. It takes a lot of time and dedication."
Unlike other full contact combat sports, MMA allows a variety of fighting techniques both while standing and on the ground. Some of MMA's most used fighting techniques include muay thai, judo, karate and wrestling.
Though he has achieved numerous accomplishments for his talent, VanBuren said one of his proudest moments came last summer fighting in an MMA King of the Cage competition. Taking place in Sault Ste. Marie, VanBuren was one of the last amateur fighters in the competition that also included professional fighters.
"I was one of the last amateur fights before the pro fighters and won with an armbar just after a minute," said VanBuren.
Most important, he said MMA has given him ideas and philosophies he can use to help better his life.
"I believe anything, especially MMA, comes down to willpower," said VanBuren. "Life is one big challenge after another and willpower is the only way to surpass the difficulties. Don't give up and you will reach your goals." n